The 5 Worst Zoos In The World -- And How To Save Their Animals
All zoos are not created equal. Some do helpful, important conservation work and research, while others do the opposite -- imposing cruel conditions and inhumane treatment on captive animals. Keeping standards of compassionate care and humane treatment in mind, we've compiled the five zoos with the worst conditions for animals, the zoos that should be shut down.
1. Surabaya Zoo, Indonesia: Tiger fed with meat laced with formaldehyde
Often referred to in the media as "the world's cruelest zoo," the Surabaya Zoo has seen one tragedy after the next in recent years -- from a young lion found hanged in his enclosure and a giraffe with plastic lining her stomach to a tiger fed with meat laced with formaldehyde. A total of 43 animals died at the zoo between just July and September of last year. Journalist Richard Shears blew the lid off the zoo with his harrowing photos.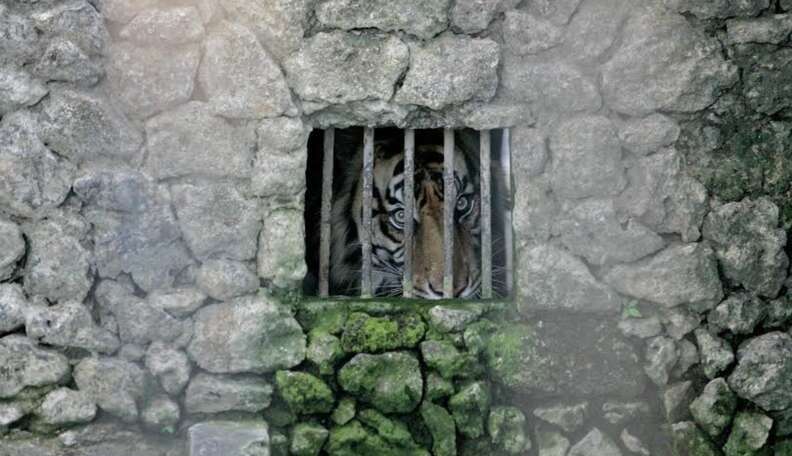 There are lots of ways to help the 2,800 animals living at the Surabaya Zoo. Start by signing this petition calling on the staff to be replaced with qualified zookeepers, then close the zoo and release or rehabilitate animals where possible. The advocacy group Asia also has an email form to send a letter to 145 Indonesian embassies and consulates around the world, calling for action to close the zoo -- or you can contact them each personally here.
2. Mumbai Zoo, India: Lets animals die, then puts them on display as taxidermy
Also called the Jijamata Udyan Zoo, this zoo is known for slowly becoming a taxidermy museum rather than a facility to care for animals. Because many of the zoo's enclosures don't conform to the country's anti-cruelty guidelines, the zoo has been letting its animals die and then stuffing them, creating taxidermy models for visitors to see instead of animals -- including the last Siberian tiger in India. Not only do animal advocates oppose the miserable conditions the animals are kept in, they also say that stuffing animals encourages the illegal trade in animal skins and carcasses.
There are not many organizations working to save the Mumbai Zoo's remaining animals, but you can look to PETA India and the Animal Welfare Board of India for more information.
3. Giza Zoo, Egypt: Cramped conditions and refuses to exercise the captive animals
The Giza Zoo has been targeted by activists for years for a plethora of animal welfare issues filmed on this disturbing footage. The animals live in cramped, dirty cages and get little exercise or enrichment and zookeepers reportedly charge visitors to enter the cages with the animals. Not bad enough? Dozens of animals have died in questionable circumstances.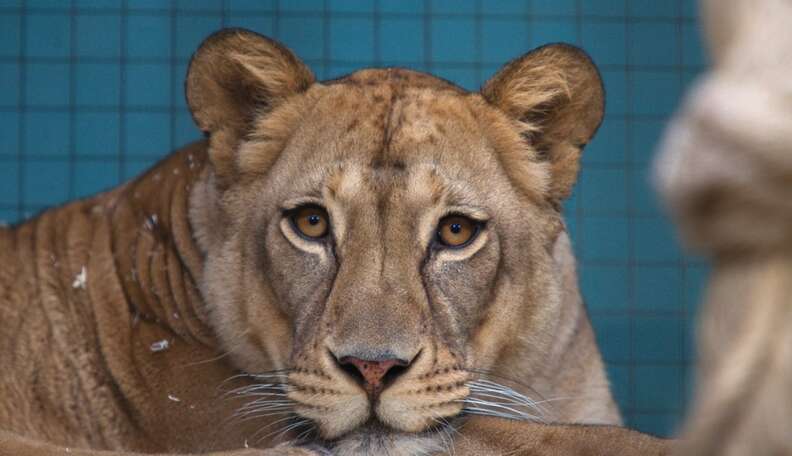 The zoo lost its membership with the World Association of Zoos and Aquariums (WAZA) in 2004, after it wouldn't follow the recommendations of inspectors. It is, however, a member of the African Association of Zoos and Aquaria (PAAZAB). You can contact PAAZAB and demand that the Giza Zoo be expelled from the organization unless it raises its animal welfare standards here, and contact PAAZAB's executive director here.
4. Kiev Zoo, Ukraine: Called a "concentration camp for animals"
Called a "concentration camp for animals," the Kiev Zoo was expelled from the European Association of Zoos and Aquaria in 2007 over poor conditions and mistreatment of animals. About 51 animals died there in 2008, including an elephant who reportedly died from a diet lacking nutrition, and a camel that wasn't treated for an abdominal condition. A government audit also found that thousands of dollars were misspent at the zoo -- while animals were illegally sold and money meant for animal feed disappeared.
There aren't many groups organizing to shut down Kiev Zoo or retire its animals. But you can support the Kyiv Society for the Protection of Animals, which works to prevent animal cruelty and rescue zoo animals in the city.
5. San Antonio Zoo, U.S.: 6 years as a bad zoo for elephants
While some of the conditions at the San Antonio Zoo aren't as bad as the facilities above, the zoo has been targeted for its abysmal elephant enclosures for years. Named the "worst zoo for elephants" last year (for the sixth time) by the group In Defense of Animals, the zoo keeps a female Asian elephant named Lucky in solitary confinement after the death of another elephant named Queenie. Profoundly social animals, elephants need companionship and often exhibit obsessive behaviors when housed alone.
You can sign a petition calling for Lucky to be retired here, and express your concern to the San Antonio Zoo here. You can also contact the Association of Zoos and Aquariums, of which the San Antonio Zoo is a member, and ask them to demand better elephant welfare at the San Antonio Zoo.
Of course, the most important thing you can do to stop these zoos is not to visit them. You can also support organizations like the Born Free Foundation and the Captive Animals Protection Society, both of which work to raise awareness to the issue of captive animals and help save animals from cruelty.