The 5 Worst States To Be A Farm Animal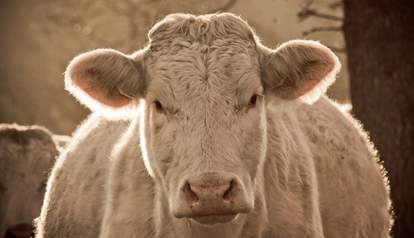 <p>Flickr: Bas Leenders</p>
Where is the worst place to be a farm animal? In states that go to great lengths to hide animal abuse by silencing people who report cruelty. "Ag-gag" laws, which have made their way through several state legislatures and have begun spreading around the world, aim to penalize whistleblowers and protect the meat and dairy industries -- even as ASPCA/video-the-brutal-basics-of-fac-532160716.html">they condone horrifying animal abuse. Organizations like the ASPCA, Humane Society, Animal Legal Defense Fund and others have worked (and continue to work) tirelessly to prevent ag-gag bills from passing as they pop up in state legislatures. But, just this week, North Carolina legislators revived an ag-gag bill that died in committee last year, circumventing their own rules and scheduling the bill for a hearing on Tuesday.
North Carolina's bill resembles several other ag-gag laws that have had chilling effects on animal welfare advocates, farm workers and journalists. These laws criminalize audio-recording, video-recording and photography inside farm facilities. Eight states have ag-gag laws on the books right now, and North Carolina could join them soon. While some take tougher anti-whistleblower stances than others, all of these laws are aimed at preventing the public from knowing what goes on behind the closed doors of America's factory farms -- and ultimately make life worse for farm animals. With that in mind, here are five of the worst places to be a farm animal in the U.S.:
1) Idaho
Flickr/sneakerdog
An epicenter of factory farm animal abuse, Iowa has been subject to its fair share of media scrutiny for the horrifying abuses that have taken place in its numerous mass agricultural facilities. After a different Mercy For Animals investigation, in 2011, Iowa pork producer Iowa Select Farms was dropped by multiple retailers (including Costco, Kroger and Safeway) for condoning gruesome practices like slamming pigs to the floor and castrating piglets without anaesthesia. Then, in February 2012, another undercover investigation at Hawkeye Sow Centers revealed the prevalence of gestation crates, which keep sows confined to immobilizing spaces without enough room to turn around -- and which are standard at Iowa farms. And, as Mother Jones reported, the documented abuses at Iowa's MowMar hog farms resulted in some slaps on the wrist for abusers. Following public outcry and pressure on these farms' primary purchasers, Iowa still failed to reform its farming practices. Instead of outlawing the use of gestation crates or taking a tougher approach to addressing livestock abuse, the state passed an ag-gag bill in March 2012, which criminalizes obtaining a job at an agricultural facility under "false pretenses" of any kind. The law effectively prevents undercover investigations from unearthing cruelty.
3) Missouri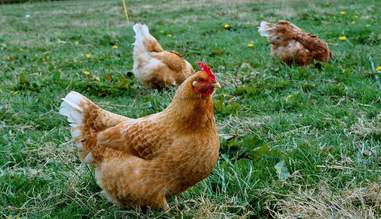 Flickr/Compassion In World Farming In 2007, a PETA investigator proved the sick irony of one of Missouri's many agricultural facilities being named KFC's "supplier of the year," discovering prolific chicken abuse at the "superlative" slaughterhouse. Undercover footage of the George's Inc. plant in Butterfield, Missouri revealed workers impaling live birds and dumping them inside massive defeathering tanks while still conscious. If this is what Missouri's "best" agricultural facilities look like, the worst are almost unimaginable -- and it's likely we'll never have any idea what goes on in Missouri farms today. The state passed a new type of ag-gag bill in July 2012, which typifies the farming industry's favored approach to ag-gag legislation: "quick-reporting" provisions. Unlike Idaho, Missouri doesn't ban video, audio or photo recordings inside agricultural facilities -- but it does require that anyone who records incriminating information turn that information over to law enforcement within 24 hours of obtaining it, effectively preventing long-term undercover investigations.
4) Utah
Flickr/USDA Utah isn't known for having many factory farms, but it has taken great pains to protect the few mass agricultural facilities it does have. After Idaho, Utah's ag-gag legislation is some of the harshest that's been passed since 2010, and it's prompted a broad coalition of activists to file a federal lawsuit challenging the law's constitutionality. The first person to be prosecuted under Utah's ag-gag law, Amy Meyer, was charged for recording what she saw behind the fences at Dale Smith Meatpacking Company, near Draper City, Utah -- and what she saw was grisly. "A live cow who appeared to be sick or injured being carried away from the building in a tractor," Meyer told journalist Will Potter, "as though she were nothing more than rubble." The charges against Meyer eventually went away -- but the conditions she recorded didn't.
5) Kansas
Flickr/Liz West There aren't recent undercover investigations that exhibit what happens at the scores of factory farms in Kansas, where the average hog farm is estimated to house 10,000 pigs and the average dairy 3,600 cows. That's because Kansas has the oldest ag-gag law on the books. Passed in 1990, the Farm Animal and Field Crop and Research Facilities Protection Act is an old school way to prevent anyone from revealing essentially anything that goes on in Kansas's agricultural facilities. In a state where there are literally more cows than people, we can only imagine what kind of cruelty happens behind closed doors (and in a state with an ag-gag law as old as Kansas's, we can literally only imagine).
Please join us in opposing ag-gag legislation by signing this petition: