There are a lot of reasons why orangutans are often called the "people of the forest." One of the most amazing of these is their incredible capacity for tenderness and complex emotions. That fact is no more clearly evident than in this heartwarming videos of orangutans holding hands with each other -- and with us.
1. A wild baby orangutan stretches down from the canopy to grab a hiker's hand.
2. Baby Rickina gets a double hand-hold from a keeper at a rescue facility in Indonesia.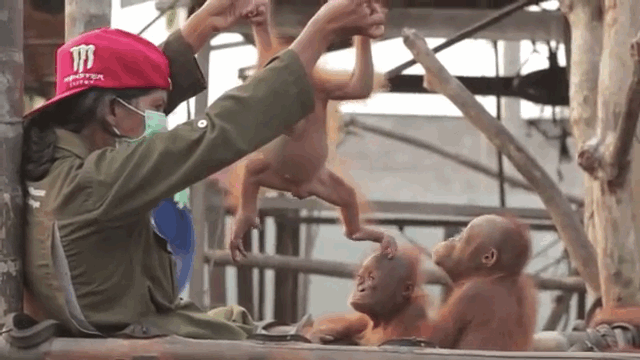 Here's Rickina's whole story:
3. Orangutans give each other a hand while climbing down a tree.
4. These rescued orangutans make handholding a game.
5. More than a hand hold -- this orangutan puts her whole arm around a bewildered hiker in the jungle, then tries to lead him back home with her.