The infamous "Birdman of Alcatraz" isn't the only prison inmate to enjoy the company of an animal while serving time. Lots of prisoners participate in programs that give them contact with four (or two)-legged friends -- often to the benefit of both parties. Here are some of the most memorable animals living behind bars.
1. Dogs are an inmate's best friend.
There are lots of programs that connect prison inmates with dogs. One wildly successful example is at Gwinnett County Jail in Georgia, where dogs who would've otherwise been euthanized are matched with inmates so that they can be rehabilitated, trained and readied for adoption. Not only is it good for the dogs, inmates say it helps them grow more empathetic and enriches their lives.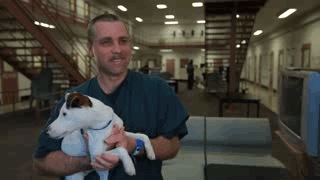 See a video short on the program here:
2. Cats thrive behind bars.
Similar to dogs in prison, cats live in prison to prepare for adoption, and teach the inmates compassion. Inmates at a Washington state prison play with the cats and socialize them, giving them "a second chance" at life.
3. A "brilliant" brood of hens.
Flickr: Peter Cooper
One prison in Scotland has a group of unconventional inmates -- a brood of 13 egg-laying hens. The feathered guests have lots of benefits -- some inmates learn to build chicken sheds in their carpentry shop, while others learn animal care skills while still others attend learn to cook with fresh eggs. And the emotional impact was palpable; one inmate said that the birds "have got such a therapeutical effect on you, so it's brilliant."
4. Fish farms for felons.
One prison in New Orleans runs a successful aquaculture program using a rooftop and the security guards' former football field for its site, producing farmed tilapia that is served on the menu twice a month. The fish farms teach the inmates how to sustainably raise their own food, and technical skills for after they are released.
5. A sick sparrow banded inmates together.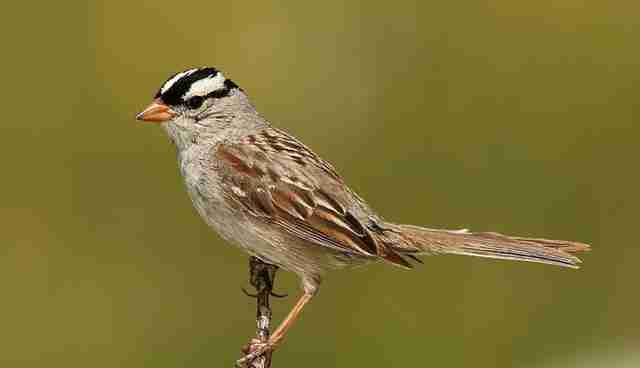 Wikimedia Commons: Wolfgang Wander
A sick sparrow found in a prison yard had such a profound effect on inmates at a maximum security prison for the criminally insane in Lima, Ohio, that even the guards noticed a behavior change. The prisoners were being more sociable and cooperative than usual, according to the guards, because they were working together to nurse the tiny bird back to health.