Fast-Growing Texas City Halts Urban Sprawl For The Sake Of Bats
<p><a class="checked-link" href="https://www.flickr.com/photos/deegephotos/4553311131/">Flickr/Daniel Spiess</a></p>
San Antonio, Texas ranks among the fastest growing cities in the U.S., projected to grow nearly 10 percent by 2018. But as planners and developers race to accommodate the influx, conservationists and city officials scored a big victory to ensure that local wildlife will still have the room they need as well.
That's because San Antonio's human population of just over two million is dwarfed by another type of resident - an estimated 20 million Mexican Free-tailed bats.
Just outside the city limits lies one of the great wonders of the natural world - Bracken Cave, a subterranean haven that is the largest colony of bats on the planet. Every summer, millions of bats migrate to give birth to their young, filling the sky at night as they swarm the surrounding forests to feed.
"We would have had hundreds of bats congregating on the porches, around street lights, around swimming pools," said Andy Walker, executive director of Bat Conservation International (BCI). "Baby bats that were either resting or sick, or older bats that were sick, might be found by family pets and brought into houses."
Conservationists protested the planned development after it was unveiled in 2013, garnering the support of the community and of San Antonio City Councilman Ron Nirenberg, who, after visiting the cave himself, described it as a "spiritual experience."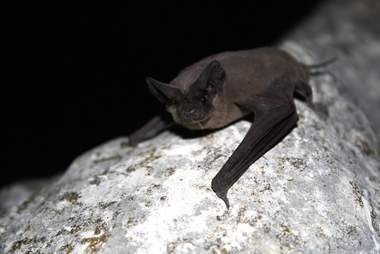 (Wikimedia)
"I mean, this is the glory of the Texas hill country, and if you're not moved to action to keep this a part of our Texas hill country for our enjoyment and the enjoyment of future generations, then you probably should check your pulse," Nirenberg told NPR.
Galo Properties made it clear that they were willing to sell the 1,521-acre landholding, but it wouldn't come cheap. The price tag of $20.5 million was too much for the city or any conservation group to afford on its own, so they teamed up for the sake of the bats.
"In mid-October, the city okayed $10 million for the deal," writes urban planning NGO Next City.
"The U.S. Army contributed $100,000. Another $500,000 came from the Edwards Aquifer Authority, and Bexar County approved $500,000. Bat Conservation International and the Nature Conservancy closed the gap with the remaining $10 million in private donations and funding."
On October 31, the deal was finalized; the sprawl was halted. Those involved in the long fight called it a victory.
"With passion and commitment, hundreds of citizens, community leaders and organizations came to together to protect a globally important piece of the Texas Hill Country," said Nirenberg, in a press release. "This is a huge win for San Antonio and the entire state of Texas."