Texas Considers Hiring Team Of Goats To Fight Fires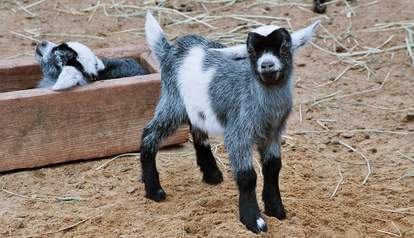 An ongoing experiment in one southeast Texas town could lead the state to rely on a new form of wildfire prevention: goats. City officials in Victoria have begun an experiment in one of the town's parks to determine if goats are the most cost-effective tool for removing overgrown shrubs from the area. If the trial proves successful, fire prevention officials at Texas A&M University are likely to advocate for using goats to remove hazardous fuel on a statewide level.
"What we are planning to do now would be to audit the goats and then show this as an example across Texas," Bruce Woods, head of mitigation and prevention at the Texas A&M Forest Service, told the Houston Chronicle. "We would say to local fire prevention teams, this is an idea you might want to look into."
Goats are commonly used for fire prevention in western states like California, where they've demonstrated an exceptional ability to keep down flammable brush. The animals are indiscriminate eaters, chomping on grass, shrub, and even poisonous plants -- specifically poison ivy -- without suffering any harmful effects. They're capable of moving over a variety of terrain, and overseers of the Texas project say the goats clear about an acre per week, masticating weeds for up to ten hours a day.
"Sometimes Texans bristle at things going on in other states," Woods said. "This [test project] is something we could use as an example that's being done here... The potential is there."