Pig wrestling, also known as a pig scramble, is often thought of as a long-standing, harmless summer tradition that's just a normal part of county fairs and church-sponsored festivals.
But a glimpse at the animals in the contests - in which participants chase a pig around a muddy enclosure and try to catch and throw her in a barrel or tire before time runs out - shows how the animals experience the trial.
Recent photos from an annual pig festival in Quebec show the animals struggling as they are tackled and dragged through the mud.
Festival-goers can eat the meat that comes from dead pigs as they watch live ones scream and suffer.
It's a common practice in many towns, but some people are starting to speak up for the animals who cannot.
"Pigs were punched and kicked, body slammed, jumped on, dragged against fences and thrown in barrel," Jordan Turner, president of the Global Conservation Group (GCG), an animal advocacy organization in Wisconsin, told The Dodo. After one event, GCG even offered to take the sore and injured pigs to Farm Sanctuary after their ordeal, but their offer was refused. "They were slaughtered the next day."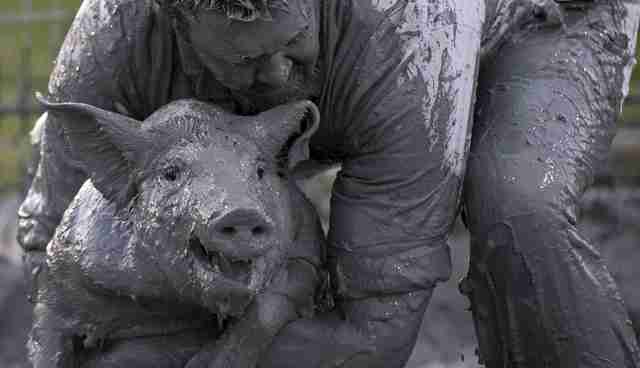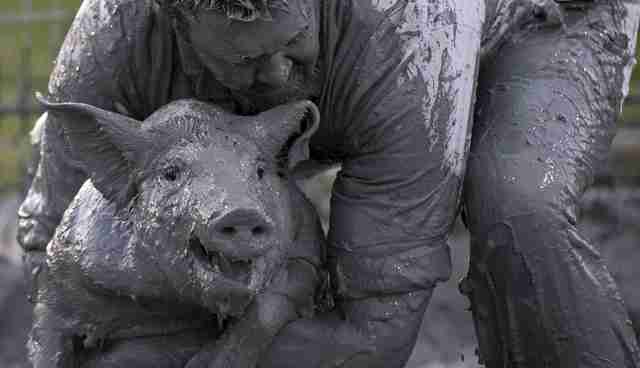 The group started a campaign last year against a local pig wrestling event that garnered tens of thousands of signatures to stop the cruelty. Because of this outcry, the St. Patrick Catholic Parish made a change this year: They replaced pig wrestling with a life-sized foosball tournament. Now, according to Turner, the GCG has filed a lawsuit working to make pig wrestling illegal in the state.
Considering that pigs have been found to be as appreciative of love and kindness as dogs, the practice looks a lot more like animal cruelty than cause for celebration.
But the tide is starting to turn, and people are finding other ways to celebrate the summer - that's a reason to celebrate in and of itself.