Teenage Refugee Couldn't Leave His Puppy Behind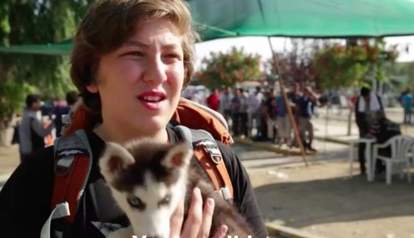 <p><a href="https://www.facebook.com/UNHCR/videos/vb.13204463437/10154373179723438/?type=2&theater">Facebook/UNHCR</a><span></span></p>
Thousands of Syrian refugees are fleeing for Europe - leaving behind everything they know to undertake the dangerous, sometimes deadly journey.
But one young man couldn't leave his best friend, so he took his puppy as he fled his war-torn homeland for Greece.
17-year-old Aslan arrived on the Greek island of Lesbos with only a small backpack and his beloved puppy, Rose.
In a video posted to Facebook by the UN Refugee Agency, Aslan is asked why he brought Rose with him. "I love my dog," he says simply.