Ted Nugent Lives Up To His 'World-Class Loser' Status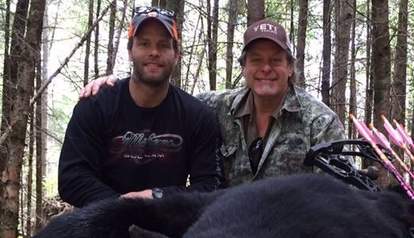 <p> <a href="https://www.facebook.com/tednugent" target="_blank">Facebook/Ted Nugent</a> </p>
Washed-up rocker and unabashed animal killer Ted Nugent is back in the news defending his title as "world class loser" - this time by gallivanting about with a group accused of poaching bears and stealing their genitals.
Nugent recently shared a photo of himself proudly posed with a bear reportedly killed with the help of Lawrence Dyer & Sons Outfitters, a Canada-based hunting business mired in legal trouble over poaching and animal part possession charges.
"At Lawrence Dyer & Sons in New Brunswick Canada," Nugent wrote on Facebook last month. "With Danny, Dave, Chris and Kim & team for THE best black bear camp anywhere! Rugsteaks [bear meat] are flowing baby!"