In what's been called a real-life Jumanji, dozens of wild animals who escaped from a zoo found themselves helpless and fighting for their lives in a flood-ravaged city over the weekend.

Bizarre images of the flood's aftermath show disoriented animals in wrecked city streets, after flash floods wreaked havoc on Tbilisi, the capital of the Republic of Georgia.
WARNING: Graphic content below
The disaster is a grim reminder of what generally happens when wild animals, kept in a zoo and living in close proximity to humans, are released from their enclosures.
Animals roaming the streets after the floods included a hippo, 20 wolves, eight lions, and several tigers and jaguars, according to the New York Times.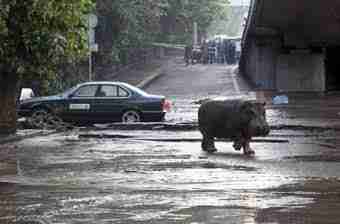 Heartbreaking images of beautiful animals who died in the flood or were shot dead began to make their way around Twitter, prompting questions about why animals who survived the flood aren't just sedated rather than killed.
In fact, the director of the Tbilisi zoo said that police "exceeded their authority" in killing the escaped animals, the New York Times reports, and called for an investigation into the deaths of the animals. "If an animal attacked people, it's one thing," zoo director Zurab Gurielidze said. "I know that no order was issued to kill animals." Gurielidze implored residents not to kill the animals.