Tattooed Monkey Finds Peace After A Lifetime Of Suffering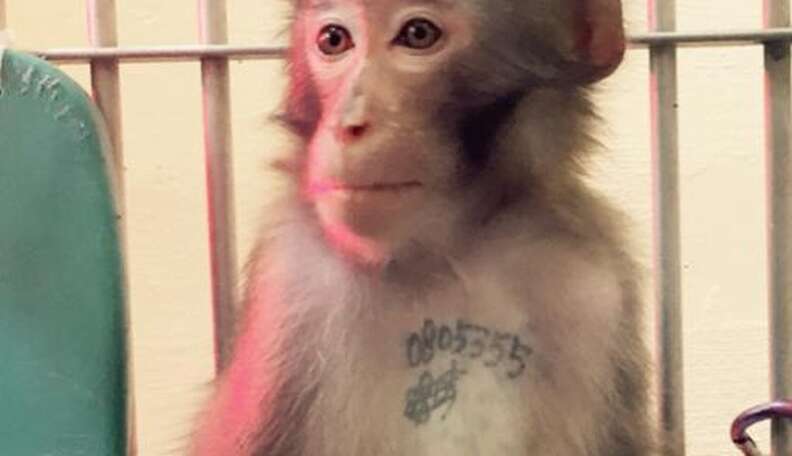 <p> <a href="https://www.facebook.com/PrimateRescue/?fref=nf">Facebook/Primate Rescue Center, Inc</a><span></span> </p>
<p> <a href="https://www.facebook.com/PrimateRescue/?fref=nf">Facebook/Primate Rescue Center, Inc</a><span></span> </p>
After what had likely been a lifetime of suffering at the hands of people who viewed him as a mere commodity, a lonely Rhesus monkey named Andi is beginning to learn what it's like to be at peace.
Andi was discovered earlier last month in a rural corner of Kentucky, struggling to survive on his own a world away from his native habitat in Asia. By the time he was captured several hours later, brought to safety by April Truitt of the Primate Rescue Center, Inc., he was severely underweight.
The starving monkey's most curious feature, however, was hard to miss - it had been tattooed across his chest.
For Truitt, who's spent two decades working with rescued primates at the sanctuary she founded, that clue offered the clearest hint about his mysterious origins, one which, sadly, is far from unique.
"We are pretty sure Andi was born on a breeding farm in China in 2005. He was probably imported into the country at the end of that year," Truitt told The Dodo. "He spent some time in quarantine before probably being shipped to a biomedical research lab who-knows-where. Wherever he was sent, the people there are not interested in coming forward to find him."
Every year, around 1,200 monkeys like him are imported into the United States to serve as laboratory test subjects where their identities are reduced to numbers permanently imprinted on their skin, Trutit says. It's unclear what Andi had been forced to endure for the ten unaccounted-for years of his life in a lab, though his usefulness had evidently dried up.
Yet instead of being retired to a sanctuary, where he might have had the chance to experience some semblance of a normal life, Andi is believed to have been dumped into the exotic animal trade.
"The records of these transactions don't have to be made public," said Truitt. "But we know that it's a fairly common practice."
From there, perhaps after being traded among several dealers, Andi ultimately wound up being sold as a pet. Truitt spoke to a man who reported having traded cash for the monkey in the parking lot of an exotic auction in Tennessee. Not long after though, he apparently lost interest in the new pet and abandoned him across state lines where he was eventually rescued.
Andi is believed to have survived in the woods there for several weeks.
Sadly, both the importation from overseas of primates for research and the exotic wildlife trade continue unabated in the U.S. - practices which all too often result in animals like Andi needing to find safe havens. Fortunately, sanctuaries like the one Truitt operates are there to help.
She counts Andi as among the lucky ones:
"He's doing quite well here. He's now starting to act like a male monkey should. He's coming around quite nicely. We're hoping to introduce him to a social group here, because he's likely been alone for a very long time. He can easily live another 25 or 30 years. We want to give him the quality of life that wasn't previously available to him."
For Truitt, stories like Andi's are all too common, and accountability for those responsible is all too rarely applied.
"If you want to work on these animals, or have them as pets, they're your responsibility always," she said. "Now Andi's my responsibility, and I'll take care of him for the rest of his life."
To find out how you can help support Andi, and other rescued animals at the sanctuary, visit the Primate Rescue Center, Inc's website here.