A tiny endangered tapir was taken from the wild and raised as a pet - but now she's getting a second chance at freedom.
At just a few months old, the little tapir was brought to South America's first elephant sanctuary - which is helping more animals than just pachyderms - to learn how to be wild again. Along with her came an older male tapir who suffered a similar fate.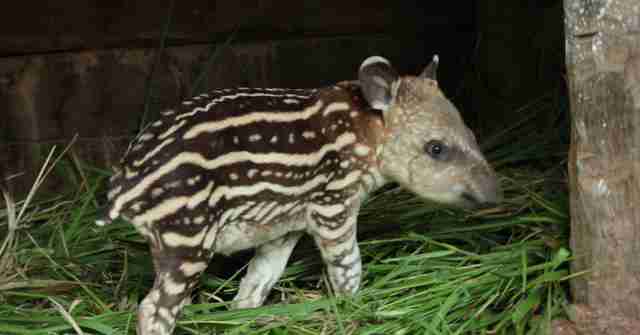 "First we thought we were only getting one, but it ended up there were two," the Elephant Sanctuary Brazil (ESB), which just opened in October, recently wrote. "This is actually a good thing since it allows them constant companionship and to bond with each other instead of looking towards humans for affection."
And the little female tapir is bonding quite strongly with the older male. Just the other day, she went up to him and gave him a kiss on the mouth while he was napping.
Then she went ahead and nibbled on his ears.
And she also nibbled on his toes.
Sadly, the male tapir still showed the marks of his plight when he first arrived. His head was raw and wounded from where he'd been rubbing it on the cage in which he'd been kept, and his coat lacked luster from malnutrition.
But he seems to like his adopted little sister: "He is very tolerant of her following him around and even seeks her out when he wakes from his naps at times," the sanctuary wrote.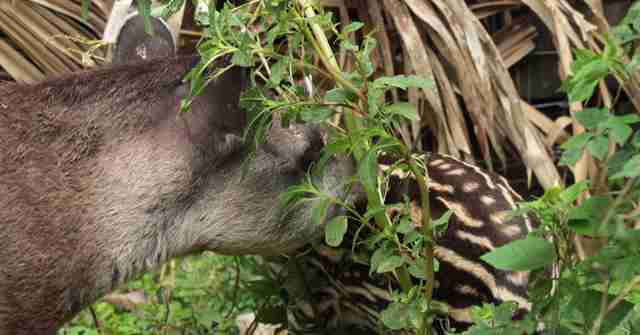 The sanctuary agreed to take in the tapirs because they really had nowhere else to go, and the local government asked for the sanctuary's help in raising and rereleasing the animals. "The tapirs are pretty remarkable little animals and we're thrilled to pay a part on ensuring their release," Scott Blais, CEO of the Global Sanctuary for Elephants (GSE), which runs the sanctuary in Brazil, told The Dodo.
Tapirs - a fascinating animal related to horses and rhinos, and one which has hardly changed over tens of millions of years - are wild animals native to the region, but are too often sold illegally as pets. The little female tapir, for instance, was kept in a house and fed only cow's milk. Because of this, she had a bit of a rough start at the sanctuary.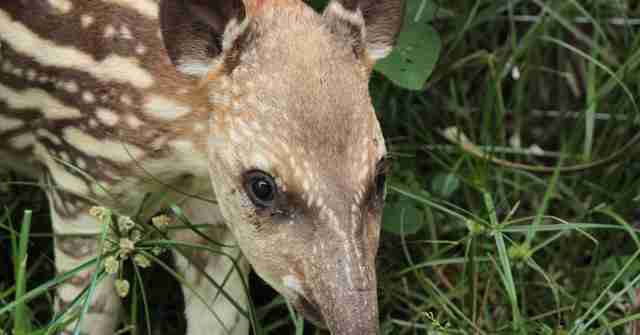 "She needed some extra medical attention before being outside on her own," the sanctuary wrote. "She was moved inside for monitoring and to aid in raising her temperature. She was given vitamins, probiotics, fluids under her skin for hydration and the room was adorned with grass, vines and branches to encourage her to eat a more appropriate diet."
Once she was let outside, she immediately started sampling the local cuisine, tasting different leaves and plants.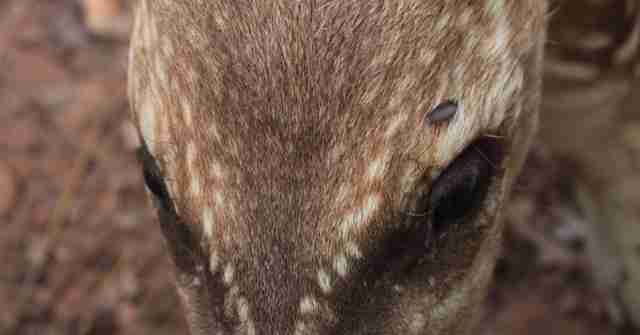 As for the male tapir, even though he was raised as a pet, he's still pretty independent. He doesn't search out human affection, just food - which is how wild animals who are set to to be released should behave, the sanctuary said.
"They are both doing very well, the sores and scars on the male's face are healing and they are both gaining strength and weight," Blais said.
And their bond seems to be just right. "They are good with one another but not inseparable, which is good as it indicates that they both have a good self-esteem and feel comfortable," Blais said.
This is a good sign that the two will be releasable when the time comes - probably a few months from now. "We're hopeful that he'll serve as their guide," Blais said.
To help these special residents of the sanctuary, as well as the elephants, you can make a donation here.