When His K9 Was Attacked, This Cop Knew What He Had To Do
Every cop should be trained to save his partner's life.
Officer Tim Bergman of the Tampa, Florida, police department has depended on his K9, Indo, since they became partners in 2011. During those years, Indo has had over 30 successful physical apprehensions and more than 60 successful surrenders - instances where suspects chose to give up rather than face confrontation with a police dog.
On January 12, Indo was responding to a burglary when the suspect ignited a flammable chemical and tossed it at the advancing dog, severely injuring him. Although the flaming chemicals hit Bergman as well, he was protected by his uniform and vest. Bergman shot the suspect to stop him and immediately turned to Indo.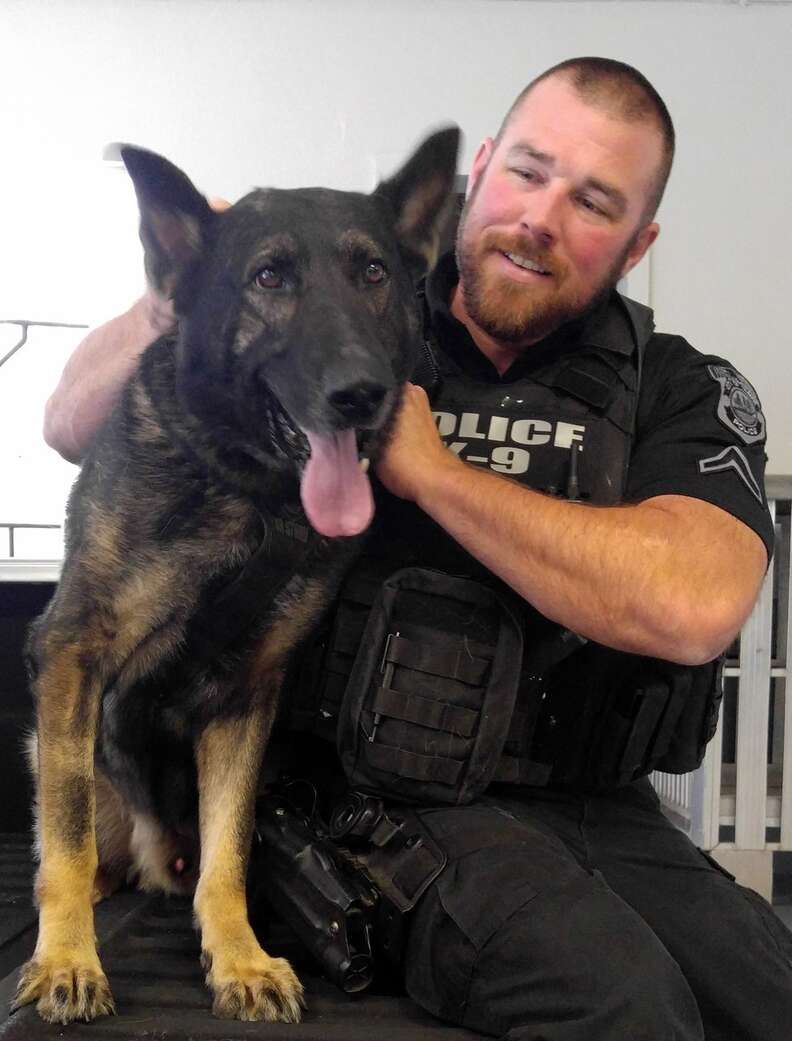 Bergman said his own adrenaline was pumping - and when he looked at Indo, he could see that his was, too. Indo was hyper and his face was covered with blood. Bergman started first aid treatment on the scene using a kit specifically created for police dogs by Frankie's Friends, a nonprofit that promotes educational campaigns like the program Bergman participated in, K9 Heroes First Aid Course - which teaches police officers how to identify and respond to life-threatening conditions in their K9 partners.
It was because of that course that Bergman knew how to treat Indo's injuries on scene. "At first I thought he was shot because there was a lot of blood, but then I could see he had been burned," Bergman told The Dodo. "I used the kit to get the accelerant off and treat the wound and then rushed him to the vet. He's my partner."
Danielle Martin, executive director of Frankie's Friends, told The Dodo that the first aid course was funded by Cindy Roberts, the wife of a fallen police officer.
"While the professional handlers of K-9 officers and search-and-rescue dogs are often trained in first aid for people, their knowledge of the K-9 anatomy is often limited," Martin told The Dodo. "Knowing what to look for, health-wise, can identify issues before they become serious, or even save the dog's life."
Indo was rushed to the vet, where he was treated for burns to his face. He spent the next few weeks recuperating at home with Bergman. "At first his mood was down," Bergman said. "He was very calm, which is not like him. As the days went on, Diesel [Bergman's own dog, a boxer] brought his spirits up and he got much better."
Bergman and Indo returned to work less than a month after Indo was injured on the job. Indo's face bears scars from the flaming chemicals hurled at him that day, but his spirit is strong and his drive hasn't changed. Bergman is very modest, but he had to laugh during a press conference that was held upon his return to work with Indo in February.
"It took 20 minutes before anyone asked how I was doing," he said. "It was all about Indo."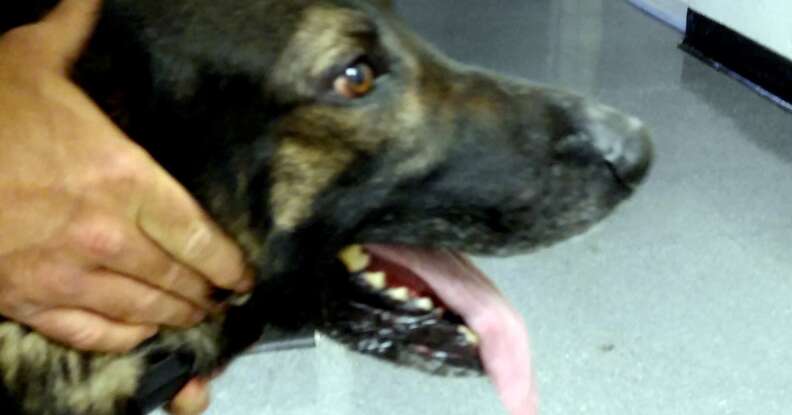 Bergman said he had to try out to become a K9 handler before he ever met Indo. Handlers are observed when dealing with dogs to see if they have the ability to work with animals who cannot communicate with words.
"We are given two minutes to get an untrained dog to respond to a command," Bergman explained. "We are watched to see how we interact with that dog, for instance, to see that we don't pull on a leash in frustration when trying to make the dog scale a fence."
Bergman used Diesel for this test. "He's a very dopey dog," he said with a laugh, "and he didn't cooperate."
Once the partners are matched, they go through a grueling 480-hour training course that emulates everything they will face together in the field. Once successfully evaluated, they are considered a certified K9 team. Following certification, training continues depending on what a K9 will be used for. Indo is experienced in explosive device detection.
In this video, gunpowder is put on towels and hidden for Indo to sniff out.
Bergman and Indo initially spent their time acclimating to one another. "I hand-fed him for two weeks to build our bond, " Bergman explained. The pair work and train 12 hours a day, four days a week. "Indo knows when it's work time and when it's home time," Bergman said.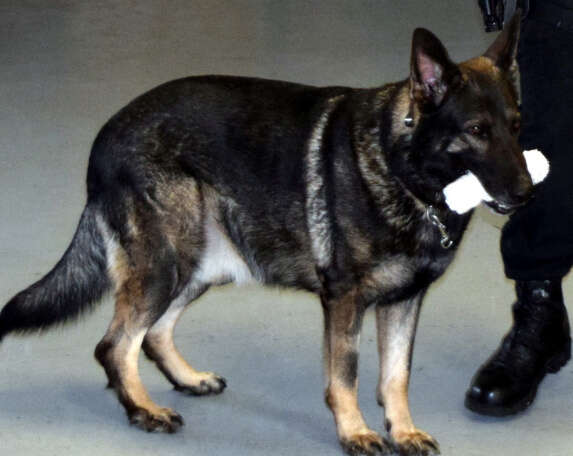 Currently, it is only a misdemeanor in the state of a Florida to hurt a K9 officer on the job.
Martin said that more than 75 handlers have been trained in K9 first aid since the Frankie's Friends program started, but the foundation is currently seeking donations to keep it going.
If you would like to donate to Frankie's Friends and the K9 hero first aid course, click here.