Thousands Attend Funeral Of Very Important Cat
<p> <a href="https://www.youtube.com/watch?v=IfQIdKa8ETA">YouTube/We Love Tama Channel(AQUARIUS787)</a><span></span> </p>
Once a mere stray cat on the streets of the rural Japanese town of Wakayama, Tama was adopted and named the head of the Kishi train station eight years ago. Fame soon followed as word spread that a cat held a prominent infrastructure position. By the end of her life, at age 16, she was indisputably Japan's most famous cat.
Now thousands are mourning the passing of Tama, who went from stray to Shinto goddess, and who bettered the lives of thousands of people. Her fame brought fortune to the train line, which had been losing millions of dollars per year because of dwindling travelers to the region. But, since Tama's appointment in 2007, the train line was given a new lease on life, and the local economy grew by $8.9 million.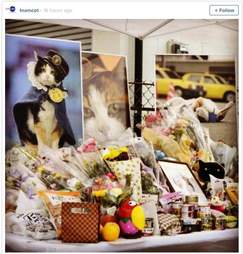 Grateful to Tama, whose stardom helped save the livelihoods of countless people relying on the train line for jobs and tourism, the company president visited her before she died. Tama, despite her illness, stood up and greeted her longtime colleague with a meow.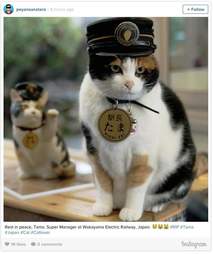 The town's governor, Yoshinobu Nisaka, also expressed sadness and gratitude at Tama's passing. "Tama won a great popularity at home and abroad as a super star of tourism. At the news of her loss, I express my deep sorrow and great gratitude," he said.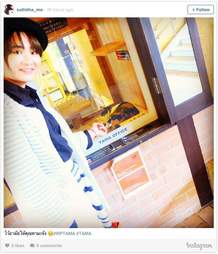 On Sunday, an estimated 3,000 people attended Tama's funeral. Even though a cat named Nitama is in line to take Tama's old position, Tama - who worked her way up from stationmaster to ultra-stationmaster to vice president, and whose spirit has been given the new title of "honorable eternal stationmaster" and the status of a Shinto goddess - is truly irreplaceable.
Rest in peace, Tama. And thank you for all you did.