Taking Stock: SeaWorld's Dismal Financial Decline Continues
<p>Flickr: Winkyintheuk</p>
It's been a rough couple weeks for SeaWorld's accountants. While the end of last week ushered in the landmark split from its longtime marketing partner, Southwest Airlines, this week brings even more financial woes.
Financial news service The Street notes that the company's stock (SEAS) fell 24 percent in the past twelve months.
Google Finance The company has been facing intense pressure from animal advocates, spurred by the CNN documentary "Blackfish," which exposed the tragic realities of orca whale captivity at the park.
This is just the latest episode in a series of money problems faced by SeaWorld in the past year. Here's a timeline of SeaWorld's financial slippery slope in the past few months:
- December 2013: Once the majority owner of SeaWorld Entertainment, Inc., The Blackstone Group gave up its majority stake in the park, dumping 18 million of its shares.
- March 7, 2014: California State Assemblyman Richard Bloom proposed a bill that would ban orca captivity in the state. As a result, SeaWorld's stock immediately plunged 7 percent.
Google Finance - March 13, 2014: SeaWorld announced its Quarter 4 earnings, reporting a loss of 13 cents a share, as well as a 4.1 percent decline in attendance for the 2013 fiscal year. On the day of the earnings announcement, SeaWorld's stock droppped 2.66 percent: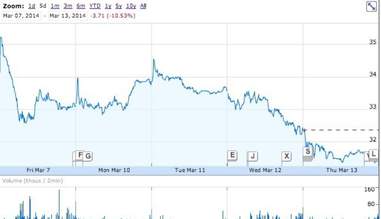 - May 14, 2014: SeaWorld announced its Quarter 1 earnings, reporting a 13 percent drop in attendance for the quarter, along with an 11 percent revenue dip year-over-year. - July 18, 2014: With waning interest from investors, SEAS was given an "underperforming" rating by the leading investment research firm Zacks.
- July 31, 2014: Southwest Airlines cut ties with SeaWorld. At the end of the day, SEAS took a hit of 1.52 percent. The Street reported that the gross profit margin for the company was "currently extremely low, coming in at 13.01%."
- August 5, 2014: Over the past 12 months, SeaWorld's stock dropped 24 percent.