Take the 'Charlie Brown challenge' and share a dog's story of hope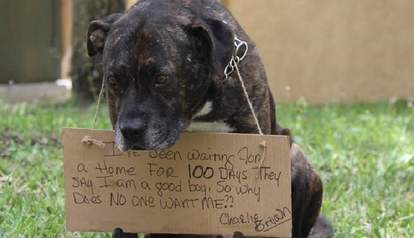 <p> <em>Cheryl Weinbender, Weinbender Photography, Sophie's Circle Dog Rescue</em><span></span> Photo Credit... </p>
Sophie's Circle Dog Rescue, located in Central Florida, shared this sweet story and video of Charlie Brown today on their Facebook page. They are trying very hard to find this big love a new forever home. He's a mastiff mix, a big couch potato, already neutered, house trained, up to date on his vaccinations. But he's just having no luck. Other dogs are adopted so quickly, and Charlie Brown would love if you could share him with some extra help.
Charlie Brown is five years old, laid back, and doesn't mind if you work all day. He just likes to lay around and chill and wait for you to come home. When you get home, he would love a nice walk and maybe someone to play ball for a little bit with him. He is fully trained, friendly as can be, adorable, and smart. He has been waiting for a long time now to find him a home..about 100 days! The rescue keeps telling him that the right home will come, but they are praying for a miracle now. He's not in any danger, and is currently in foster under Sophie's Circle Dog Rescue, but please take a look at his petfinder page, and share it with your friends on Facebook and Twitter, and in your Google groups as well.
Here's the info on the Charlie Brown challenge:
!!!! WILL YOU TAKE THE CHARLIE BROWN CHALLENGE? !!!!
IT'S EASY!
Share this photo of Charlie Brown on Facebook and nominate two or more friends to also share him, to try to help him find his forever home! Maybe the perfect owner is out there and will want to adopt! Still not sure? Watch his video of what he has overcome and how he cheated death twice...get your tissues ready though!
Sophie's Circle started rescuing Huskies in 2008, and branched out to other breeds. The rescue began in honor of Sophie, rescued from the Southeast Volusia Humane Society. She was brought in by an animal control officer when she was found wandering the streets with no identification. A test at the humane society showed that she was suffering from heartworm disease. Her sweet and loving disposition was undaunted by the circumstances she found herself in and she waited patiently for things to swing around in her favor.
She was rescued, as many are, at the final moment. She was scheduled to be euthanized that day. And then her mom-to-be, Kathy Blackman, walked through the door and saw her. Kathy writes this about the day she saw Sophie for the first time:
'Way in the back, in the midst of the leaping, barking frenzy, Sophie was laying there calmly. I put my hand in her cage and she licked it while staring straight into my eyes. It was as if she knew I was coming and was waiting for me. This was a no-brainer.
As it turned out, the odds that day were very much in her favor. And the rest, to coin a term, is "herstory."
Charlie Brown would love a happy ending too. The rescue is located in New Smyrna Beach, Florida. Please contact dconway1327@gmail.com if you are interested in adopting this big hunk of love. If Charlie's not the one for you, here are some others you might be interested in.