Taiji's Slaughter Season Begins, First Dolphin Pod Killed In The Cove
Hunting season in Taiji, Japan is officially underway, as a pod of Risso's dolphins was driven into the city's cove and slaughtered. Eight to nine animals, including one calf, were killed, according to activists on the ground in Taiji.
Though the hunt officially started over two weeks ago, none of the drives have been successful thus far - until yesterday, when boats were seen herding a pod back into shore. To drive them in, fishermen dip long poles into the water and hit them, causing loud vibrations under the surface. These noises push the animals toward the cove where they can be corralled with nets.
Ric O'Barry's Dolphin Project, which has been monitoring the hunt for years, reported that there was some back-and-forth at first:
But the animals were eventually driven in. Sea Shepherd's Cove Guardians, who are also on hand to witness the slaughter, captured photos of the dolphins trapped by nets and swimming into the cove.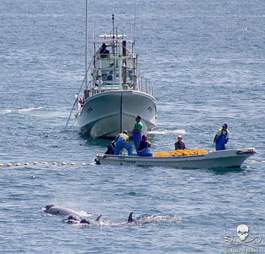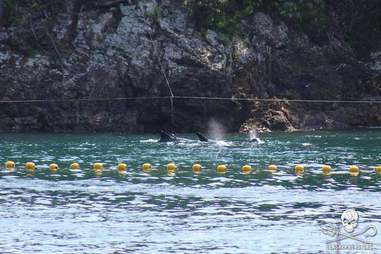 While previous years have produced gruesome footage of dolphins being slaughtered out in the open, this year fishermen have erected tarps to hide the details from activists' cameras. They push the animals under tarps and drag them through the water before killing them so that images of the slaughter can't be seen by observers or press.
During past hunts, several dolphins have been hand-picked to live in tanks at marine parks around the world (this has been cited as the real reason for the hunt, according to the Dolphin Project). But this time, the animals were immediately processed for meat.
The Japanese Health Ministry has found dangerously high levels of mercury in dolphin meat of all species. The legal limit for mercury in Japanese seafood is 0.4 parts per million. Many samples of dolphin meat in Japan have been found to exceed that limit, some as high as 5,000 times higher.
Footage and updates will live stream from the cove, as the hunt, which usually stretches until April, continues. See this post for everything you can do to prevent the dolphin drive hunt.