Taiji Whale Museum To Keep "Angel" The Albino Dolphin Long Term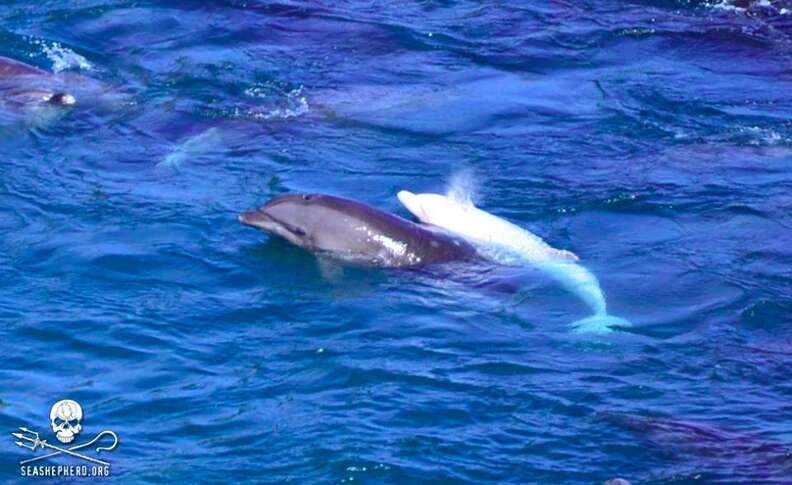 The albino dolphin, dubbed "Angel" by activists, that was captured in Taiji's cove during the annual dolphin hunt, remains in a marine park still. Japanese officials from the Taiji Whaling Museum have commented on the controversial capture, which galvanized a movement of opposition to the brutal hunt. Journalist Tim Zimmerman received comments from the park's Assistant Director, Tetsuya Kirihata, thanks to a local source who translated the responses. Zimmerman posted his questions and Kirihata's responses on his blog.
Kirihata said that Angel is living with one other bottlenose dolphin in a spare pool next to the main show pool for now, but that she may be transferred to another pool in the park soon. He also said that two others were removed from the tank, because they ate Angel's food.
The reason why she cannot catch the food she is fed is not because she is sick, but probably due to the change of environment. When she manages to be fed, she continues to be fed. She eats the same amount as the other dolphins.
Kirihata denied media reports that the calf is blind and deaf, but said that Angel isn't as social as the others:
It'll be better if she becomes a little friendlier. During the day her eyes are closed or slightly open and at night they're open.
He also said that the park plans to keep her "long term" -- unless another facility "could provide a better or more beneficial environment for her."
Since albino dolphins are rarely seen in the nature and often do not survive long, we intend to do our best to take care of her and learn as much as possible from this unique albino dolphin.
You can see a video of the calf swimming in her tank at the Taiji Whale Museum below.
An albino dolphin, a very rare occurrence, can sell for up to $500,000 to an aquarium or marine park, said Sea Shepherd Captain Paul Watson. Watson has also said that marine parks and aquaria are driving the dolphin hunt in Taiji, not a demand for dolphin meat, which has been proven to be contaminated with toxins like mercury.
ACTION GUIDE: Taiji Dolphin Slaughter
Dolphin roundups and slaughter -- brought powerfully to the public's imagination by the Oscar-winning documentary "The Cove" -- happen every year in Japan. You can sign our petition to end the brutal hunt here. You can also visit Sea Shepherd's site to learn more about the problem -- the organization has many ways you can help, from volunteering to simply spreading the word on Facebook and Twitter. Sea Shepherd also encourages concerned citizens to call and write to the authorities in Taiji as well as the Japanese Embassy in your country, the U.S. Embassy to Japan, U.S. and Japanese Ambassadors to the UN and the U.S. Senate members of the Committee on Foreign Relations, among others -- all of their contact information is on this page. Another group involved in the issue is Earth Island Institute's Save Japan Dolphins.