Taiji Hunt Captures 4 Dolphins, Leaves Their Orphaned Babies Behind
<p>Greg Shecter / <a class="checked-link" href="https://www.flickr.com/photos/gregthebusker/6248121743/in/photolist-aw8fUX-5nT23Y-5nT1ZS-5nT1qh-5nT2BS-5nT2sb-5nT27Y-5nT2wU-4ucVZK-gFCiWQ-gFCZwn-5nNKB6-fKUYrp-fKUYgK-fKUYNT-fKUZ6K-fKUY4X-fKUYAk-fLczJJ-avGjBR-gFCnBL-gFCU4t-gFCoS1-gFCq8C-5k4HDG-5jZrJp-5k4HLG-5k4HQm-5k4HJ9-5k4HSU-5jZrWz-34spUx-7T5y4B-nvyoVP">Flickr</a></p>
Just a day after the annual dolphin hunt in Taiji began in earnest, a second pod was driven in the cove for slaughter. This group contained four Risso's dolphins, who were brought to the butcher and processed for their meat, and four calves, who were too small for meat and were released to sea. Activists on the ground have been there to observe the hunters as it happens:
Unlike previous years, fishermen are taking extra measures to operate out of sight of activists to avoid photo documentation of their actions. After they drive a pod into the cove, the fishers have been capturing each dolphin individually under tarps from nets. Then, a small skiff drags the animal toward the butcher, where she or he is deposited under another tarp.
Sea Shepherd's Cove Guardians captured footage of the scene:
(Sea Shepherd Cove Guardians / Facebook)
Marine park trainers were also on hand during the hunt to pick out animals that were suitable for captivity. They value animals that have few markings for a multi-billion dollar network of parks where the cetaceans will perform tricks. One live dolphin can fetch a sum from $10,000 to $47,000 alone.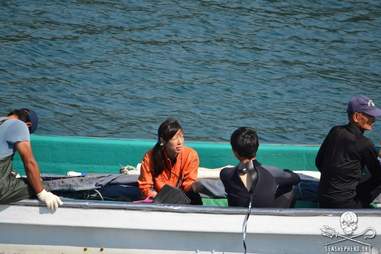 (Sea Shepherd Cove Guardians / Facebook)
Trainers left the cove empty-handed, though the same can't be said for the butchers. It's just the beginning of this year's hunt, which is set to stretch until April.
See this post for everything you can do to stop the dolphin hunt in Taiji.