Japan's Latest Dolphin Hunt: 6 Captive, Dozens Slaughtered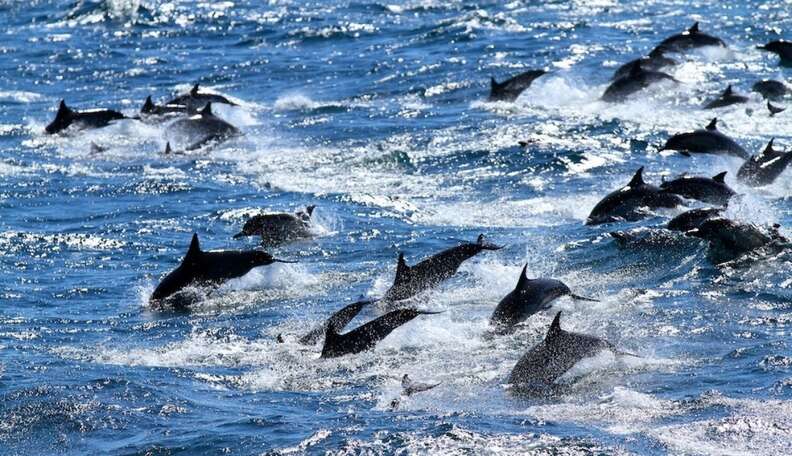 After a week of frenzied international media coverage, the dolphin hunters in Taiji, Japan continue to set out in search of new pods. At about 4:30 p.m. EST, 12 fishing boats left Taiji's harbor, Sea Shepherd's Cove Guardians report:
All 12 killing boats have left Taiji harbor and are currently at sea hunting for more dolphins and small ... http://t.co/2CJFop0G0o
- Cove Guardians (@CoveGuardians) January 23, 2014
About an hour later, the group found a pod:
8 killing boats are now in formation. The dolphin killers have found a pod. #tweet4taiji 7:26am - Cove Guardians (@CoveGuardians) January 23, 2014
Pod fighting hard to escape as killers chase and try to drive toward Taiji. #tweet4taiji 7:30am - Cove Guardians (@CoveGuardians) January 23, 2014
Pod continues to fight hard as killers and trainers make preparations in the harbor. Continue to follow for details and when we will be live - Cove Guardians (@CoveGuardians) January 23, 2014
The hunters are now in the process of corralling the new group of dolphins, while activists post live updates to Twitter. We will continue to update this post as events unfold.
While this hunt rages on, new information about the dolphins caught last week is being released. The Cove Guardians have posted images of dolphin meat they saw being sold in Taiji, presumably that of dolphins that were just caught and processed.
Conservation organization Blue Voice also posted a video to YouTube showing dolphins that were caught in Taiji last week being transported in trucks heading to the airport, where they are reportedly being flown to Chinese aquariums.
The rare albino dolphin captured in Taiji, dubbed "Angel," remains in a tank at Taiji Whale Museum, according to activist Ric O'Barry. But opponents say they are fearful that she won't survive at the marine park.
"I doubt she will survive very long," Courtney Vail of Whale and Dolphin Conservation told TakePart. "Unfortunately her life may just be a brief punctuation mark in the ongoing conflict in Taiji."
UPDATE: The hunters located a Pantropical dolphin pod, and herded it into the cove:
Three Spotted dolphins were taken captive & the rest are now lifeless on the killing shore. http://t.co/ytrsJQWIoW 11:34a #tweet4taiji
- Cove Guardians (@CoveGuardians) January 24, 2014
ACTION GUIDE: Taiji Dolphin Slaughter
Taiji Dolphin Slaughter Dolphin roundups and slaughter -- brought powerfully to the public's imagination by he Oscar-winning documentary "The Cove" -- happen every year in Japan. You can visit Sea Shepherd's site to learn more about the problem, and sign this petition asking the Obama administration to condemn the hunt. The organization has many ways you can help -- from volunteering to simply spreading the word on Facebook and Twitter. Sea Shepherd also encourages concerned citizens to call and write to the authorities in Taiji as well as the Japanese Embassy in your country, the U.S. Embassy to Japan, U.S. and Japanese Ambassadors to the UN and the U.S. Senate members of the Committee on Foreign Relations, among others -- all of their contact information is on this page. Another group involved in the issue is Earth Island Institute's Save Japan Dolphins.