Man Gives Paralyzed Kitten A Massage — And Heals Her
When a man in Damascus, Syria, found a tiny kitten who couldn't move her back legs, he knew just where to take her.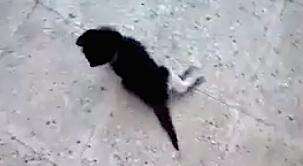 "Our friend, Mohammad Alsalem, has found this poor paralyzed kitten," the Syrian Association for Rescuing Animals (SARA) wrote on Facebook on Wednesday. "The kitten was completely paralyzed when Mohammad brought her."
Alsalem found the kitten meowing for help just outside his house. The little cat, who he named Piano because of her black and white coloring, dragged her back legs behind her as she tried to walk. When he saw her he thought she'd need a wheelchair to get around.
As for their latest patient, the people of SARA tried to figure out how to help her. Finally, Mohammad delicately perched Piano between his feet. He gently moved her back legs, like a tiny session of physical therapy.
He rotated her tiny limp legs, helping Piano exercise, and also rubbed the muscles with his fingertips.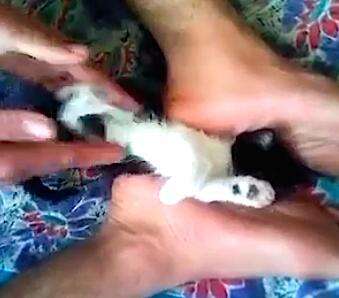 Even if the exercises resulted in no improvement, Piano certainly seemed to enjoy the attention.
But then something really did happen: Piano's legs actually started to work.
"After about one month she started really to recover," Julie Jaghnoon, of SARA, told The Dodo. "Now she can run, play and jump."
Piano was adopted by a loving family. She even has a new best friend: another rescued cat named Amil.
Check out a video on another amazing kitten rescue below: