The caller was adamant about killing the dog. "I have a pit bull I need you to take, so if you don't take him, I'll have to shoot him," he said to Amanda Harrison.
That night seven years ago, Harrison, an independent dog rescuer in Madison, North Carolina, and her 18-year-old son took off and met the man, a local backyard breeder, at his home.
She already knew the man since her son went to school with his son. The town in Rockingham County is one of those very small towns where everyone knows each other. It has only five stoplights. And so the man knew that Harrison had a sweet spot for saving pit bulls. She had taken unwanted pit bulls from the known backyard breeder in the past.
But this time was different.
Something unsavory going on
As Harrison and her son were led through the man's backyard, she realized the man was more than a backyard breeder.
He was in the dogfighting business.
"We saw everything," Harrison told The Dodo. "The way he had the dogs was a typical dogfighting setup." There were barrels used as doghouses. They walked past about 10 dogs who were underweight, scarred up and who were on short chains staked in the ground with barely any lead.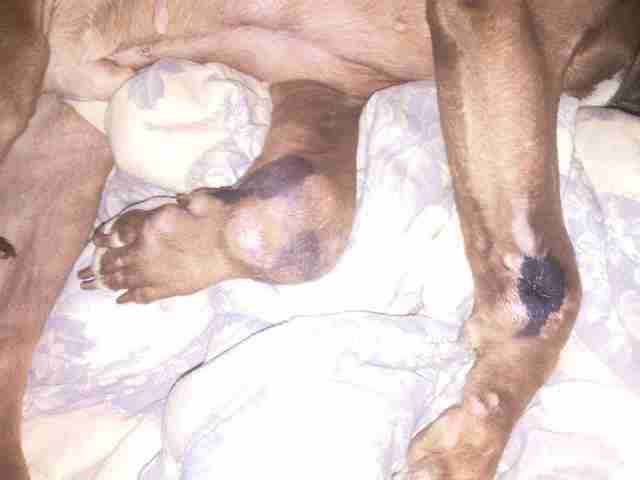 The 3-year-old smaller breed pit bull was emaciated. His chain kept hitting his leg where it created a bad wound. The man unhooked Pookie. Amanda's son picked up the dog and brought him to their truck. "I'm glad you're taking him," he said to Amanda. "I would hate to shoot him; he's a good dog."
"I had no idea why he was going to shoot him," Harrison said. "Maybe he needed space for another dog who would win fights. They want dogs who can grab and hold, but Pookie's underbite didn't allow for that."
Harrison was anxious to get out of there. It was difficult seeing the other dogs in that situation.
A serious problem not taken seriously
According to Harrison there is a bad dogfighting problem in her county. She said she reported the situation locally and nationally but that she never heard back from anyone.
Sergeant Bobby Richardson with the Rockingham County Sheriff's Office said that the sheriff takes animal cruelty seriously and that cases are fully investigated, but added that he does not know of any dogfighters in the county.
"If we do have something that arises we investigate it and prosecute and charge those who are guilty of it," he said. "To be honest we don't have a lot of problems with [dogfighting] that we know of. Sometimes we get information people will call in and if people call in we'll investigate it and check it out and do what we have to do."
Robert Perdue, animal control officer for Rockingham County, said he has not received calls regarding dogfighting in a long time, with the last being about 10 years ago.
"In North Carolina dogfighting is a felony," Perdue said. "We always hear rumors of it. I wouldn't say we have a bad problem. It probably goes on. I'm sure dogfighting goes on; it's not something that is made public."
He said the best way to infiltrate a dogfighting ring would be to get somebody on the inside to get information. Additionally, there are other crimes tied to dogfighting, such as drugs and gambling. "If you locate a dog and it's scarred up and has fighting marks healed over, it's a pretty good indication that it's been fighting," he said.
Pookie had all those telltale signs. Scarring. Neglect. Healed-over wounds.
When Harrison and her son arrived home with Pookie they administered topical ointments to the dog's open wounds and took photos.
A deep connection to the breed
As a rescuer for 25 years for both registered organizations and on her own, Harrison saves mainly pit bulls. "I feel more of a connection with this breed," she said. "Everyone I've taken in has been found to have fought or was abused." She also takes bait dogs, the ones dogfighters use because they won't fight back, the ones used to train dogs to fight, sometimes by dogfighters taping their mouths shut with duct tape. She said it was even possible that Pookie had been a bait dog.
"They want the animals like this," she said. "They search Craigslist for free dogs. They take any animal they can take for free: cats, rabbits, dogs - it doesn't matter. Anything they can use to throw in there with their dogs to get the prey drive or fight drive, they will use."
Although she typically changes a dog's name when she rescues one, she kept Pookie's name. "He looked like a little old man with a grumpy face," she said. "It just suited him.
"I was never concerned with his temperament from the moment I put my eyes on him," Harrison said. He was scared at first and it took a couple days for Pookie to relax.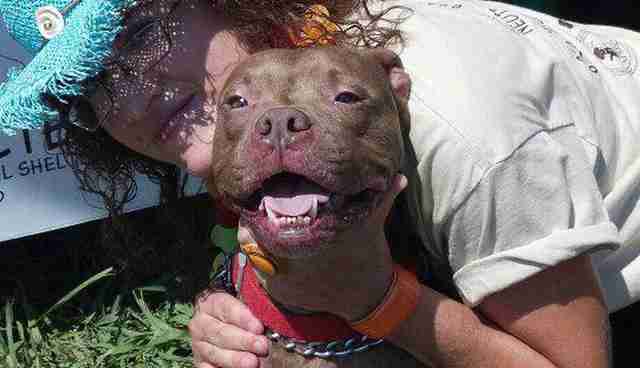 "He had a pitiful look about him," she said. "When I put him up on my bed, he didn't even move. He had no concept of being inside. It was a completely different world for him."
Treatment for Pookie
The next day Harrison brought Pookie to the vet, who said Pookie's leg had been broken and had already healed. She suggested amputation. The X-rays showed multiple old breaks and how they healed. He had scarring all over his body and was 33 pounds when he should have weighed 50.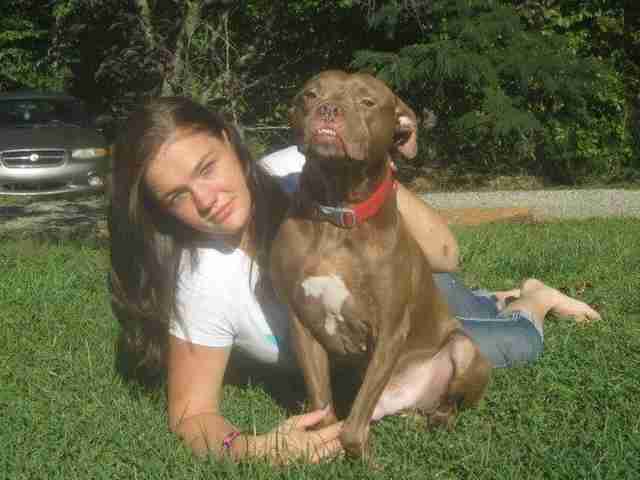 Harrison began fundraising efforts for Pookie's surgery. During that time, she placed a flexible, elastic bandage around his leg every day and the swelling started to go down. Pookie started using his leg. A second opinion showed improvement in his leg but discovered he had heartworm. He gained 10 pounds before treatment began. The regimen took a toll on Pookie, but he made it through. His leg improved so much that amputation was unnecessary, so, with the approval from donors, Harrison instead used the money slated for amputation for the heartworm treatments.
On his first visit to a pet supply store, Pookie was so weak that Harrison had to place him in a cart. She met someone from Project Pets - Spay, Neuter, Love of Greensboro, North Carolina, who asked about Pookie. "He was blown away by Pookie given what he had been through," Harrison said. He offered to have Pookie neutered at no cost.
As Pookie's recovery progressed, Harrison introduced him to more dogs his size, and brought him around more people for socialization.
He became a mascot for his breed
Harrison brought Pookie to an event sponsored by Drive 4 Shelter, a division of the Animal Protection Society of Rockingham County, because she wanted Pookie to be involved with educating the public about pit bulls and spaying and neutering.
Drive 4 Shelter is focused on education and teaching the benefits of spaying and neutering and how to reduce the unwanted pet population. "It's the first line of defense in reducing the overpopulation problem Rockingham County continuously faces," said Deb Sterling, president of Drive 4 Shelter, who works with Joan Stembridge, director of operations.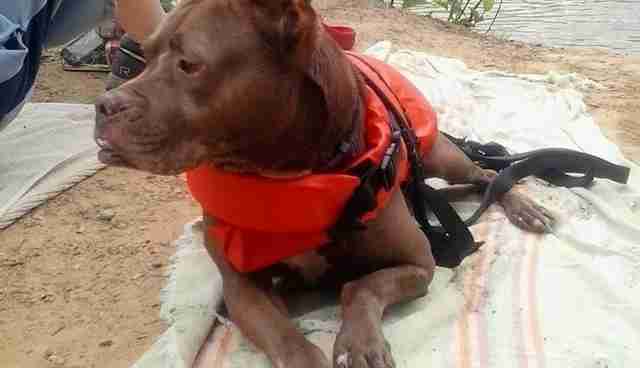 Harrison began attending events with Pookie as a local mascot to educate the public.
"He dismissed everything bad that ever happened to him, and it never tainted his spirit," Sterling said. "He was still pure."
Adults and children alike were drawn to Pookie. "Like a magnet," Sterling said. "He changed the perception about pit bulls being scary. It is good to have a live example. People only believe what they can see and experience for themselves."
Harrison started to take out Pookie more because he was so loved. "The kids especially loved him and his underbite, which they referred to as his upside-down vampire fangs," she said.
Everywhere they went, even at gas stations, Harrison used it as an opportunity to educate people about dogfighting and pit bulls. "He was my shadow and stayed with me all the time," she said.
Adults often broke down and cried upon hearing his story. Children would run up to hug him, according to Harrison.
The ex-fighting dog has educated people as far away as Sweden, Turkey and India. "It has to be that little old man face," Harrison said.
It was his time
Age and health issues contributed to Pookie's retirement last year. "His body was so beat and so worn, which contributed to his downfall," Harrison said. He had arthritis in his left front leg and the vet put him on quellin, an anti-inflammatory. "He started acting like a really old dog."
To add to his arthritis, Pookie had a cancerous gland in his throat, which eventually started to swell. Things started to go downhill. Pookie came to the point where he didn't have the strength to get off the bed.
"I knew it was time to say goodbye," Harrison said. "His quality of life had dropped to pretty much nothing."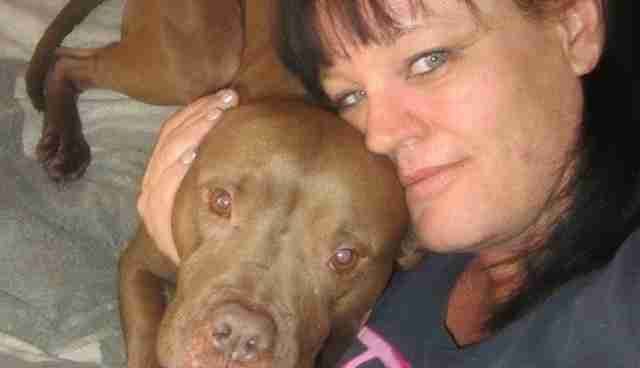 Pookie was put to sleep on February 17. With Harrison by his side. He was 10 years old.
"He put holes in everything the media says about this breed," Harrison said. "He defied the stereotype. He had beaten every odd that life threw at him - dogfighting, neglect - but everybody loved that dog. I want people to remember him for everything he had overcome.
"He showed people that it's not the breed," she said. "It has everything to do with the people who get these dogs, fight these dogs and abuse these dogs. The backyard breeders are passing the undesired traits such as human aggression. Attacks come from dogs who are severely abused, badly bred and neglected."
A lover, not a fighter
Through education, Pookie was able to reach a lot of people. "They love people. They love to please, and one of the downfalls of the breed is with dogfights. No matter if it hurts them, they will do anything they can to please you," she said. "We had an immediate bond, unbreakable to the day I had to let him go."
Harrison believes law enforcement is blind to dogfighting or they don't see it as a problem and do not care.
"I don't think there is a city in America where there isn't something unsavory happening with this breed," Sterling said.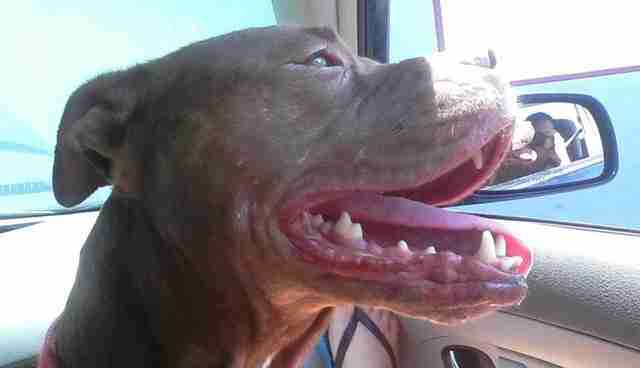 Harrison stressed the importance of not judging a book by its cover. "Get to know a pit bull who has been worked with and who is social before you condemn an entire breed," she said.
The ASPCA has information on the blood sport of dogfighting. If you suspect dogfighting or other animal cruelty in your area, call your local authorities and check The Humane Society of the United States for important information on how you can take action.