Russia's former-President Dmitry Medvedev, in 2009, donated two Russian black bears to the Dählhölzli zoo in Bern, Switzerland. In some ways, this isn't a far off practice from how zoos were first initially developed: as royal menageries. In an age where many of these exotic animals were quite unusual and never-before-seen, royals from all over the world bestowed exotic animals as gifts to each other. And they described them in the most fantastic of ways. One of my favorites is for the animal we now call a tortoise, but was once depicted as a "hog in armor."
Royal collections of animals were eventually made accessible to the public. The 1789 French Revolution heralded in the second oldest public zoo, as the people – in a symbolic and actual gesture – made the animals from the royal menagerie available to society. Prior to this, maintaining menageries was a pastime only the wealthy or majestic could afford with little or no access for the public. Zoos, and museums too, have been in a constant flux of change and rebranding since then.
Zoos have had a long, troubled history of exhibiting animals, but the animals have endured an even more troubled time as we humans try to correct and improve our theories, practices and reasons for maintaining animals in captivity. Did you know that Africans were once exhibited in zoos? Remember when non-human animals were kept behind bars with nothing for enrichment? Sadly, some of those still exist today.
Back in February, I wrote a piece called "Mourning Marius: The Politics of De-Accessioning Animals," a critical look, from a museum standpoint, at the practice of eliminating animals from a zoo's collection. Brief recap: Zoos are museums and their collections are the living animals on exhibit. 'Zoothanasia' is what they do to eliminate unwanted 'objects' in their collection. I take issue with animals being treated as objects. Plain and simple.
Over the last few months, dozens of media headlines have erupted on this issue since zoos are continuously de-accessioning animals: from Marius the giraffe and subsequent lions at the Copenhagen Zoo to a bear cub just last week at the Swiss Zoo I mentioned earlier.
Unlike most zoos that euthanize animals to prevent watering down the gene pool in captivity, this last incident at the Swiss institution is somewhat atypical (at least to those of us only now learning of the widespread practice of zoothanasia) as the zoo argued it was preemptively saving the cub from a morose end. Apparently papa bear killed one of the cubs and the zoo worried he would eventually do the same to the other. The decision to euthanize him was carried out just last week.
Yes, this is yet another incredibly sad story of a baby whose life was cut short by humans, but I think this speaks more volume in regards to the many issues of having animals in captivity or on display as a way to educate the public. These are artificial arrangements from the very beginning and make for equally unnatural existences for the animals. These exhibits are a fallacy for honest education and dampen our genuine appreciation of the animal kingdom.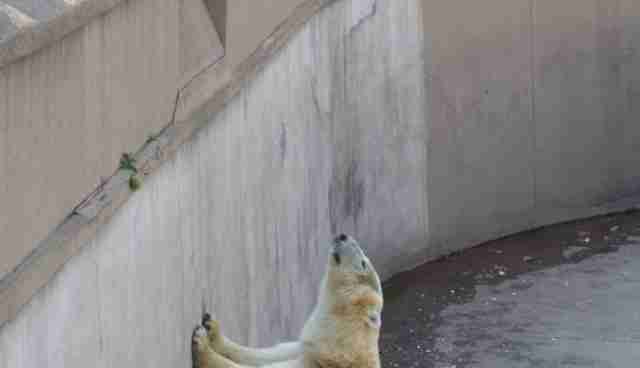 Take for instance a conceptual design of an 'exhibit' for a large animal, such as a bear: concrete pools, electric fences to prevent animals from damaging any living flora (if a zoo even chooses to decorate with them), painted backdrops to simulate a landscape, and of course dozens to hundreds of humans staring at an animal – through glass, across moats, or other some other barrier. Would you want to live like this? Would you start losing your marbles and acting in unnatural ways? I'm pretty sure I would, and I'd like to think I'm a rather tough cookie.
Furthermore, I don't think this sort of exhibit does any justice to the majesty of animals. Personally, I get more of an insight into the lives of animals through a great PBS documentary. I will admit that I have heard some progressive rumblings from academics and friends in the animal studies field that the lines are starting to blur on what a zoo looks like and how it acts. Some are working towards more sanctuary-like qualities, such as one of my favorite institutions, the Folsom Zoo Sanctuary outside of Sacramento, California. But of course the American Zoological Association (AZA) won't accredit them. One reason being that they refuse to breed their animals, a standard practice in most zoos. Other zoos are recognizing that they're unable to adequately meet the needs of certain species like elephants, which typically have enormous herds and travel an unfathomable number of miles in the wild. The Detroit Zoo closed their elephant exhibit some years ago.
But one of the most exciting rumblings I've heard to date is the eZOO from Barcelona: a scientifically-driven, immersive, and experiential way to get up close and personal with animals, sans captivity. Ethics, environment, and conservation are the driving force behind this zoo alternative where you essentially walk into an enormous gallery with screens surrounding you to provide an IMAX-like experience. I sincerely hope it comes to fruition.
I don't think today's conception of the zoo is the zoo of the future. If time tells anything, it's that change is inevitable. The bars are gone, humans put on exhibition are gone, yet we're still encountering ethical quandaries. Maybe eZOO is the next iteration of the royal menagerie? At least no baby bears, giraffes or lions would be euthanized.
By Carolyn Merino Mullin