I Conquered My Fear of Sharks ... By Swimming With Them
<p> Elias Levy / <a href="https://www.flickr.com/photos/elevy/14914326761/" target="_blank">Flickr</a> (<a href="https://creativecommons.org/licenses/by/2.0/" target="_blank">CC BY 2.0</a>)<span></span> </p>
Sane people don't swim in shark-infested waters.
So I guess my decision to go diving with great white sharks tells you a lot about me.
As soon as I confirmed my trip to Cape Town, South Africa, I knew that I had to dive with sharks. Sure, the idea of looking Jaws straight in the face scared the bejesus out of me, but South Africa is one of the best places in the world to encounter these aquatic predators. And as they say, when in Rome ...
There are dozens of companies that do these shark tours, and after doing a little research, I settled on Great White Shark Tours. The company had great reviews, and it had a driver who would pick me up at my hotel.
Some of the beautiful landscapes on the drive from Cape Town to Gansbaai. (Photo: Brittany Jones-Cooper)
At 6 a.m., I boarded the van with 12 other brave souls for the 2.5 hour drive to Gansbaai. Even though it was early, I forced myself to stay awake for most of the ride - I didn't want to miss out on the scenery. The landscape was breathtaking, with mountains, plush green farmland, and vineyards as far as the eye could see. I also learned that hitchhiking is a way of life for many in the area. It wasn't uncommon to see men and women holding out fruit or money in an attempt to convince drivers to stop and give them a ride.
When we arrived in Gansbaai, we signed in, grabbed a light breakfast (fruit, coffee, toast), and sat down to watch an instructional video. The main point of the video was this: Keep your hands in the cage or the sharks will bite them off.
Noted.
As the realization of what I had signed up for settled in, I boarded the boat that would take us to the dive site. We were warned that visibility was only about two feet because the windy conditions had stirred up sand. Still, if we followed instructions, our instructor assured us we would see sharks.
One of the crew prepared a tub of chum (mixed fish parts with water) toward the back of the boat, and seagulls started to swarm. I volunteered to go in the first group, so I went into the cabin to get fitted for my wetsuit. As soon as I zipped up my suit, I went to the side of the boat and threw up.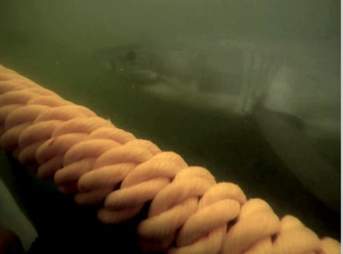 Even with low visibility, the sharks were definitely still terrifying. (Photo: Brittany Jones-Cooper)
Sea sickness is real, y'all. It's very real.
I'll take this opportunity to suggest taking motion sickness medicine should you ever go shark diving. That boat starts and stays a-rocking, and I'll just say that probably half of the passengers on that boat lost their breakfast that day.
I quickly gathered myself, put on a pair of goggles and slipped into the cage. Five other divers got in behind me, and we waited patiently as the ship's captain cast out a line with a large fish head attached - the perfect bait for great white sharks. It didn't take long for the fins to show up, and with the first sighting, my heart started to race. Why the hell was I in this cage? What if my foot accidentally slipped through the bars? No one wants to be "that girl" whose missing a toe because she was stupid enough to dive with sharks.
"Go, down, down, down," yelled the ship's captain.
Without even thinking, I took a deep breath and went under the water.
And then, there it was. Gliding casually in front of me was a great white shark. Its face was like everything I've ever seen on Shark Week, but more amazing and sharkier than I could have imagined. Its eyes were big and dark, and I was shocked at how large its rear fin actually was - I could have reached out and touched it. But obviously, I didn't. I like having hands.
Is it weird that I thought the sharks were kind of cute? (Photo: Chuck Freeman)
I stayed in the cage for about 40 minutes and had four more underwater close encounters. Each sighting was thrilling and filled me with the perfect mix of anxiety and excitement. As other people took their turn, I watched from the boat as sharks dived and wrestled, chasing the bait that was strategically placed in front of them.
It was beautiful and terrifying ... like watching a Miss America pageant.
I planned to fly back to New York that evening, so after we were back on land, the driver took me to Cape Town International Airport.
Diving with sharks: 1,600 rand (about $140). Taking a shower at the Cape Town Airport: 350 rand ($30). Not smelling like chum on a 12-hour flight: Priceless.