Hugo didn't seem like the kind of dog who could be a stray.
After all, how far could a 4-week-old puppy who can't walk have actually strayed?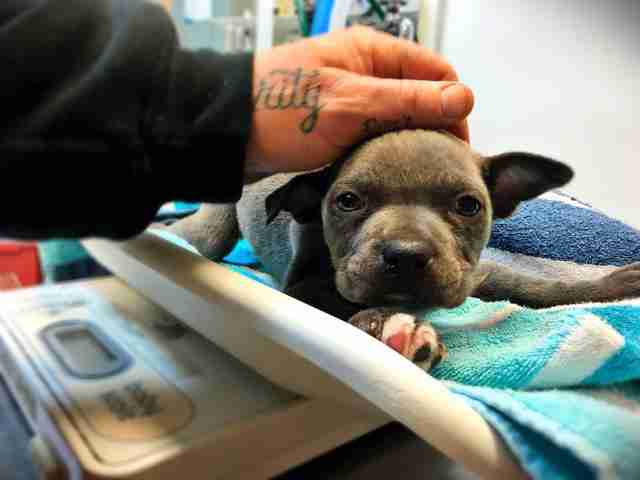 Instead, the people who found him suspect he was just thrown away by a puppy breeder who realized he was sick.
Luckily for Hugo, it seemed everyone else who met him only wanted to give him a lift.
First there was Audrey Shoemaker, a manager at Fulton County Animal Services, who realized the Georgia shelter was no place for a puppy torn too young from his family. Then there was Jason Flatt, founder of Friends to the Forlorn Pitbull Rescue, who took her call and agreed to pull Hugo from the shelter.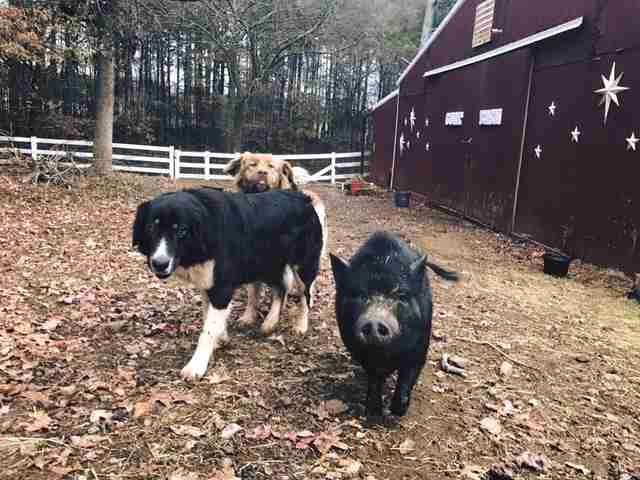 "I had family in town for the holidays but I couldn't say no to him," sanctuary owner Elizabeth LaBauve-Williams tells The Dodo. "He arrived covered in fleas and unable to walk."
Hugo was born with swimmer puppy syndrome, a mysterious genetic condition that involves a puppy making flailing motions with his legs.
"Although we've never rehabbed a swimmer pup, we were up for the challenge," LaBauve-Williams says. "There is a good chance he will never walk completely normal, but we are hoping he gets around enough for a good quality of life."
To help him get there, Hugo gets regular leg massages as well as water therapy.
"He was very nervous at first and uncertain of his recent life change," LaBauve-Williams says. "I imagine he had recently been taken away from this litter-mates."
But Huppy, another resident at the farm, was there to offer encouragement.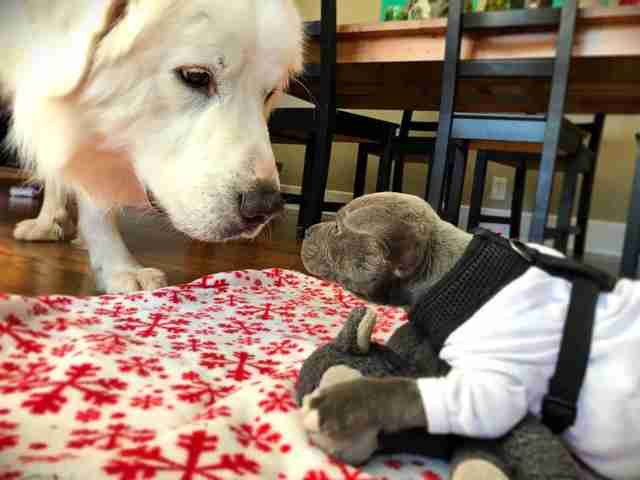 And of course, there was Adelyn, 3, and one-and-a-half-year-old Jane, who were also eager to give Hugo a lift.
The girls oversaw many steps of Hugo's rehab, even picking the puppy up whenever he seemed about ready to give up.
After just a few weeks with this family, the puppy who couldn't even stand on his own feet is taking wobbly strides - and a puppy, who was once seen as disposable, feels the warmth of family for the first time in his life.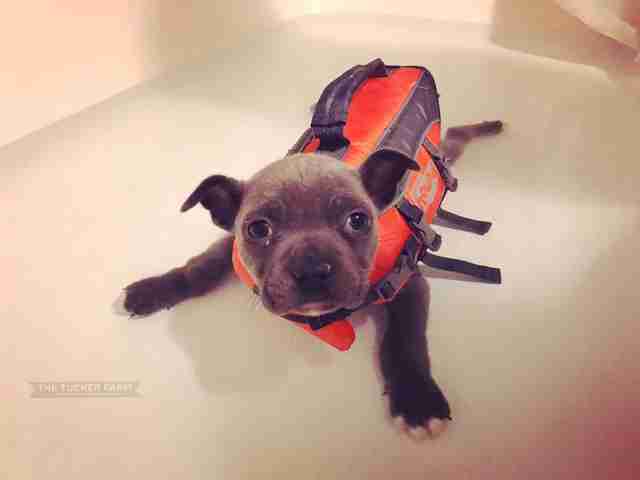 "He's a different puppy these days, feisty and so determined to walk," LaBauve-Williams says.
But this won't be Hugo's last family. Once his rehabilitation is finished, and his baby steps become flying leaps, Hugo will be looking for a forever home.