Animal Shelter Loses Everything In Fire ... Except For Them
They had already endured so many horrors in their short lives, the fire that broke out at a Massachusetts animal shelter may have seemed like a final return to the hell they came from.
In all, 17 dogs and 39 cats perished in a fire that burned one of two buildings at Sweetpea Animal Shelter to the ground over the weekend. The devastation was such that people were seen, according to the Washington Post, "gathered in a nearby building on the property, weeping and wrapping the rescued dogs in blankets to keep them warm."
One of two buildings housing animals at Sweetpea Animal Shelter was burned to the ground.GoFundMe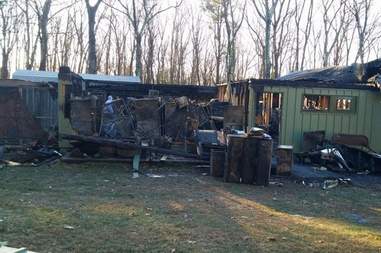 One of two buildings housing animals at Sweetpea Animal Shelter was burned to the ground.

| GoFundMe
"Tonight, Sweetpea has lost almost everything," came the stark message on the group's Facebook page.
But not everything.
While the shelter held a vigil last night for the scores of beloved animals who lost their lives, the focus now turns to the survivors of Sweetpea.
In all, four dogs and a cat were hauled from the blaze.
"We were very fortunate to save just those," fire chief Jay Conte told CBS News. "The site was fully involved when we got here, so we didn't think we were going to save any of the animals."
Three of the dogs - Brooklyn Skye, Jade and De Vinci are in stable condition, according to the group, along with Kitten the Cat. The fourth dog, Stella, is in critical condition.
Unlike their fallen friends, whose lives were bookended by tragedy, these animals survived.
Hope, though ashen and faint, still lives here.
You can see it in their faces.
And now, the staff at Sweetpea, though devastated by the tragedy, are hoping that a well-earned happy future awaits the survivors.
Because although the dreams and hopes and love invested in scores of animals was snuffed out in that blaze, the shelter's mission must endure.
Simply, because there are so many more animals out there.
Let's start with the survivors.