Sweet Dog Abandoned When His Owners Split Up ... And Both Move On Without Him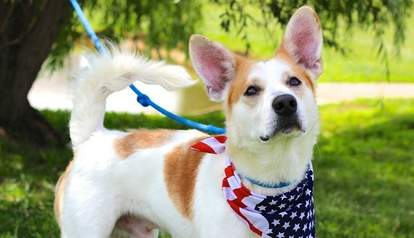 <p><a href="https://www.facebook.com/dcacurgents/photos/a.1392073134410205.1073741828.1390434247907427/1614323528851830/?type=1&theater">Facebook/DCACUrgents</a><span></span></p>
Sebastian spent two months at the shelter waiting for a new family. Pets are often caught in the middle of breakups and divorces, with couples fighting about who gets custody of beloved animals. But in Sebastian's case, no one was fighting over him.
"He was a little timid the first few days," the shelter representative told The Dodo. But after some time, Sebastian showed his true colors at the shelter. "He was just super sweet with everybody ... he seemed pretty happy-go-lucky."
Luckily Sebastian's story has a happy ending. A post about him on a volunteer-run Facebook page got lots of attention - and just last week he went home with his new family.
Sebastian's new mom drove two hours to pick him up and take him home, where he'll live happily and permanently with three doggy siblings.