When Leanne Bird and her husband Shaun first met Peanut, she was someone else's foster puppy - but they fell head over heels for her and knew she belonged in their family.
"She was the biggest sweetheart and we couldn't imagine life without her, so we ended up adopting her," Bird told The Dodo. Peanut was a 6-month-old puppy at the time.
"We thought she was just clumsy, but there were a few things that didn't seem right as she got older," Bird said. When Peanut was about a year old, she was diagnosed with progressive retinal atrophy, a degenerative eye disease. She "was functionally blind or would be by about one and a half [years old]," said Bird.
In Richmond, British Columbia, where Bird and her husband live, residents who have bully-type dogs like Peanut are required to register them as "dangerous" with the city.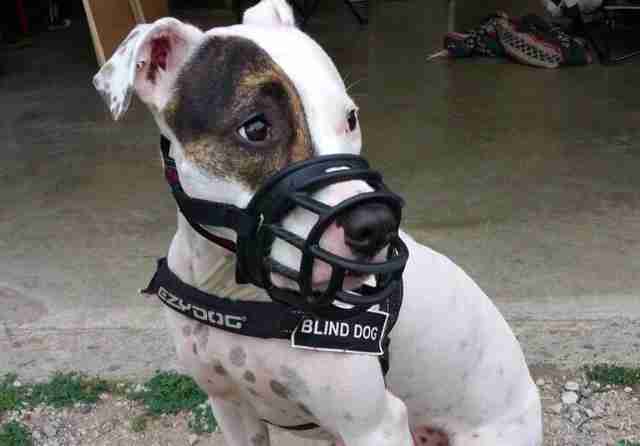 Whenever Peanut goes out for a walk, according to the law, she must wear a muzzle ... despite the fact that Peanut has never displayed any dangerous behavior.
"She is extremely popular in the building that we live in and in our neighborhood," Bird said. "People don't know mine or my husband's names, we often just get referred to as Peanut's mom and Peanut's dad!"
Not only is this breed-specific law totally unfair, it also seriously impairs Peanut's ability to get around. Because she's blind, Peanut relies on her whiskers, keeping her nose close to the ground as she walks.
"Dogs with reduced vision are obviously especially dependent on their whiskers," Bird said. When Peanut is forced to wear her muzzle, "she continues to walk into walls and smack her head against things and when she does, she gets quite disoriented. It is hard for us to not consider that her hitting her head so often could possibly cause some trauma."
"Peanut is really just a big sweetheart," Bird said. "We can barely walk down the street without people, children and other dogs stopping to say 'hi.'"
Bird just wants other people to realize how sweet Peanut is - a special dog (with special needs) who doesn't deserve to be treated like a criminal.
Check out the Bird's petition to change the anti-pit bull law here.