Finding a Forever Home in the Mountains
Rescued from the hollers of West Virginia, Sadie is preparing for her first winter up north in New Hampshire.
Check out her story [slideshow 4332]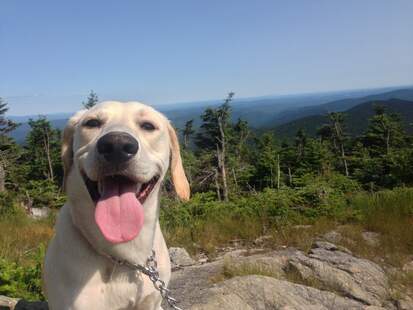 Sadie was homeless and days away from being sent to the pound in an impoverished community. I met her on a service trip to West Virginia to learn about the environmental degradation and social justice as a result of mountaintop coal removal.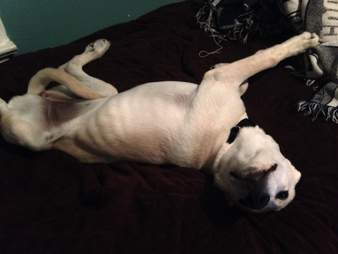 Sadie wandered around the holler (the lowland between two mountains, where many residences are in WV) and a wonderful elderly woman was feeding Sadie what she could, but with no collar, identification or owner looking for her, an energetic pup was too much for a senior citizen. Sadie had a hard time approaching and being approached by men. (A year later, she is now beginning to trust familiar male neighbors!!) and needed a safe home to accommodate a transition and her energy.
The community of Montgomery is full of kind people who have the mountain air spirit. A family was able to foster Sadie for a week as my service trip wrapped up. I got my car in New Jersey at my Mom's house and went back to pick Sadie up to bring her home with me. Sadie was a light in my life during a time when a personal trauma left my mental and physical health in desperate need of recovery. Our connection was immediate.
We settled into my Mom's house for a few days of rest before going up to live in my apartment in New Hampshire where I work as a Sustainability Fellow at Dartmouth College. My mom melted at the sight of her, my sister cuddled and kissed her. We gave her a nice bath, a warm towel, and some steak. Her head on my shoulder after a 12 hour drive home and being introdcued to the family was the best feeling in the world.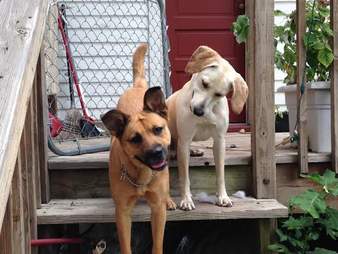 My brother's rescue pup "Jersey!" They formed a nice little pack!
She smiled. I smiled. Life was good as Sadie was introduced to the woods in New Hampshire.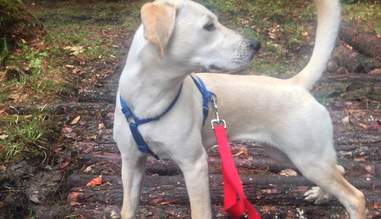 The vet said Sadie was underfed and we set to work to put weight on the puppy. Sadie loved her steady diet and bones filled with peanut butter.
But nothing healed Sadie (and myself) more than the fresh air on our weekly hikes.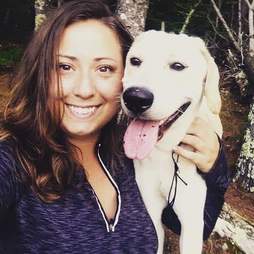 My gratitude towards her is unwavering. Her ability to wake up each day and desire to get outside on a walk has been so beneficial to my physical and mental well being! Coming home from work to her hugs are the best part of my day. I am so excited to spend a large part of my life with her right by my side.