SWAT Officer Swoops In To Save A Starving Chihuahua Puppy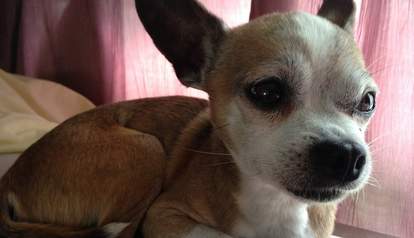 <p><a class="checked-link" href="http://pixabay.com/p-405606/?no_redirect">PixaBay</a></p>
SWAT teams are a police department's most highly trained and best equipped officers, ready to intervene in the most urgent life-or-death situations at a moment's notice. But sometimes saving a life takes no crime-fighting skills or weapons - just a big heart and some beef jerky.
The Oklahoma City Police Department's Tactical Unit was conducting training exercises recently when they spotted something that made them put the drill on hold - a starving chihuahua puppy, emaciated and alone in the bitter cold on the roadside. Fearing the animal would not survive long outside, SWAT member Sgt. Chris Eastwood stepped in to help.
The officer was able to earn the dog's trust by offering him beef jerky and crackers, reports local news station KFOR. Eastwood even found an old cushion that had been warming in the sun on the side of the road; he gave it to the dog to keep him cozy, then returned to training.
But the sad state of the little dog never left Eastwood's mind.
(KFOR)
"I thought about it the whole day. It was like pulling at my heartstrings because it's cold and he doesn't have any muscle. I mean, he's literally skin and bones," he told news station KOCO News.
"This guy, you can see every bone in his body. I mean, all of his ribs, all of his skeletal bones, it's obvious. He wouldn't have made it through the night. Or I didn't think he would. And I couldn't leave him."
With two dogs already at home, Eastwood wasn't able to take the frail pup back to his house, so he did the next best thing - he put him in the hands of animal rescuers. The dog will be placed in foster care as he awaits adoption with the help of The Bella Foundation, a local nonprofit that finds homes for displaced pets.
Sadly, no one ever came to claim the little dog, raising suspicion that he had been abandoned. If that is indeed the case, the work of law enforcement in this case is not yet done; authorities say that the owner, if found, will be charged with animal cruelty.