The depraved individuals who tied this sweet pit bull to railroad tracks and left her to die have been found.
Warning: Mildly Graphic Image Below

As Cabela continues to recover from injuries she suffered in a case of animal cruelty that's shocked the world, those responsible can now be brought to justice for the brutal crime.
Tampa Bay police apprehended two young men who have admitted to shooting Cabela then tying her to railroad tracks in Florida earlier this month. According to investigators, Natwan Callaway and Bobby Hollinger, both age 17, were involved in a dogfighting operation - and they tried to kill Cabela because she refused to participate.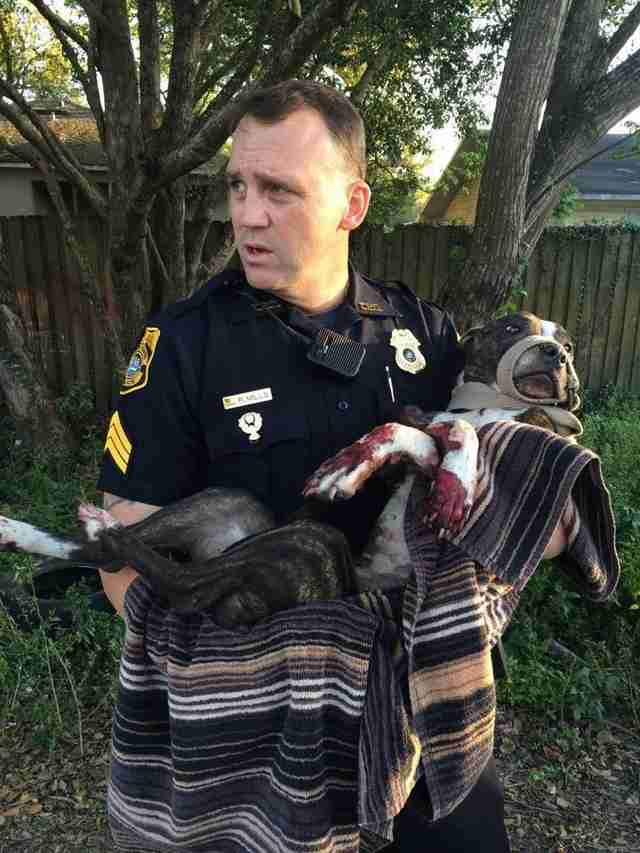 "When Cabela wouldn't fight, they decided to get rid of her," the police department said in a statement. "The two suspects, along with others went to the railroad tracks. Hollinger threw the dog into the woods and fired at the dog. The dog ran back home, sat injured on the front porch, they caught her and brought her back to the tracks, tied her to the tracks and Callaway shot her several times. "

The two young men appeared in court Thursday and their next court date is April 8. Hollinger has already been released to home detention while Callaway is being kept in secure detention because he was charged with possession of a firearm, in addition to aggravated animal cruelty.
On Thursday, police arrested two additional suspects: Cabela's former owners, Darnell Devlin, 18, and Kenny Bell, 21. At their residence, authorities found evidence of dogfighting and rescued a pair of dogs who appear to have been forced to fight.
Meanwhile, Cabela is said to be recovering well at Tampa Bay Veterinary Emergency Services following surgery to save her leg.
"Cabela is doing very well, her bandage was removed last night and she is already bearing a small amount of weight on her leg. Her chances of making a full recovery are improving," the clinic wrote on Facebook.
"We hope the individuals responsible will be prosecuted to the full extent of the law."