Woman Almost Died When She Was Attacked By A Pit Bull — And Then She Adopted One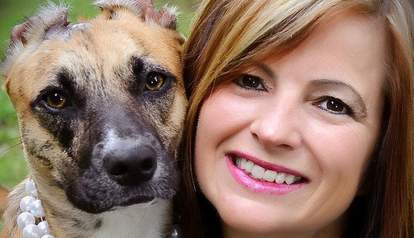 In life, we can either hold grudges or we can forgive - and grow more than we ever thought possible because of it.
Donna Lawrence witnessed animal abuse every day for five years, as she watched her neighbor's pit bull left chained up outside and forgotten. When her neighbors left town and left the dog behind, Donna tried to feed and care for him - but the terrified, neglected animal attacked her. She could have used that attack to justify hating dogs, or having a bias against pit bulls that so many people possess.
Donna barely survived the attack, which caused her to miscarry and left her unable to have children, and yet it never made her bitter.
Kelly Williams
Kelly Williams
In 2009, only 10 months after Donna's attack, she came upon an abandoned puppy in a park in North Carolina who had been beaten, burned and was close to death. The 8-week-old pit bull mix, later named Susie, had her jaw broken and all her teeth knocked out, all because she had licked the face of her owners baby, according to a press release sent to The Dodo. Her final punishment? Susie was set on fire and left to die.
When Donna found Susie with burns covering over 60 percent of her body, she realized that this kind of abuse is the reason dogs lash out in the first place.
And so, she decided to do something about it.
Despite a veterinarian's recommendations that Susie be put down, Donna raised the funds needed for her surgery and later welcomed her into her home, much to the shock of her friends and family. Together, Donna and Susie helped to pass a law in North Carolina called Susie's Law which demands stricter punishments for animal abusers.
Kelly Williams
Kelly Williams
Susie and Donna now visit schools, churches and various other places in communities to talk about animal abuse and give everyone a firsthand example of how it can be overcome - with love.
It's people like Donna who are helping to break stereotypes, spread love and put an end to the abuse that so many animals endure.
To learn how you can help pass tougher animal protection laws, click here.
Check out the trailer for Susie's Hope here: