Surfing Dog Helps Boy With Life-Threatening Illness Achieve Dreams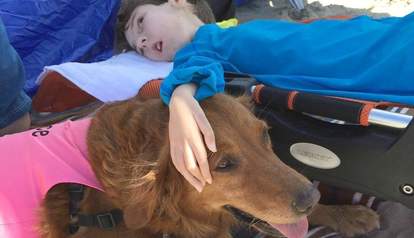 <p> <a href="http://SurfDogRicochet.com" target="_blank">SurfDogRicochet.com</a> </p>
Aaron is a very bright 7-year old boy with a spirit that defies the odds. The doctors told his parents that he would never see his second birthday. He has severe spinal muscular atrophy (SMA) which profoundly limits his muscle movements. He can't hold his head up, sit, stand, walk, eat, swallow or cough.
But that didn't stop him from his dream of surfing with Surf Dog Ricochet, the SURFice dog! Unfortunately, it rained the night before their surf session. Coastal waters become polluted with urban runoff and the water quality was too dangerous for Aaron's fragile state.
Despite that, Aaron and Ricochet still got on board to raise awareness of SMA! They hope you will too by watching and sharing this video. Thanks for your support! Paw-abunga!