Sunning Little Seal Makes Splash At Sydney Opera House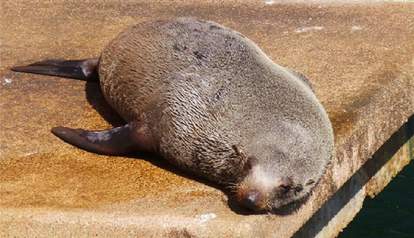 <p>Instagram: the__songbird</p>
The Sydney Opera House played host to a new kind of performer on Thursday morning - one that was especially furry.
A three-year-old New Zealand fur seal was observed sunning himself happily on the steps of the famous Australian performing arts center around 3 or 4 a.m., and remained basking in his newfound sunspot until well after 2 p.m.
Some spectators were alarmed by the seal's presence, and it is believed that one bystander even called the police on the little creature, though this has not been confirmed.
Authorities took care to make sure the little fellow was not disturbed by passersby. Opera House spokeswoman Kate Huish told The Sydney Morning Herald, "We've had to barrier the area a little bit so people aren't leaning over and getting too close, so there's no safety concern ... He's very healthy from what I'm told. We've got a couple of guys from Parks and Wildlife keeping an eye on him. He's very happy, he's just in the sun, it's a great spot."
According to a tweet made by the NSW environment department, it is possible that the little seal was actually thermoregulating his temperature, as opposed to simply "sunning."
NSW National Parks and Wildlife Service's senior officer Geoff Ross told ABC News that though this sort of behavior is not the norm for these pinnipeds. "We are seeing fur seals take up residence in places like Sydney Harbour and Botany Bay and all up and down the New South Wales coast a little bit more often than they have in previous years." (Instagram)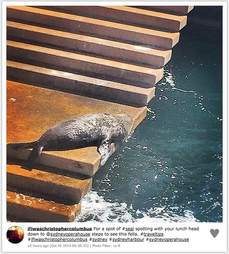 Australian marine mammal research group ORRCA is apparently monitoring several seals (including the sunbather) in Sydney Harbor, and ORRCA spokeswoman Shona Lorigan stated that "We're delighted that he's chosen this wonderful location to take a nap ... he's in very good condition and taking lots of little refreshing dips in the harbour." The seal has apparently been around the harbor for the past several weeks, taking advantage of the abundance of fish.
One lucky spectator even got some footage of the seal during one of his dips in the water:
The seal has quickly become an internet favorite. Social media outlets have spearheaded the #nametheseal movement, throwing out an abundance of suggestions for possible seal names:
Regardless of his moniker, it's pretty clear from his afternoon in the sun and sudden celebrity that the little seal had quite the day at the opera!