Tragic Photos Of Abused Bear Inspire Rescue Of Her Fellow Captives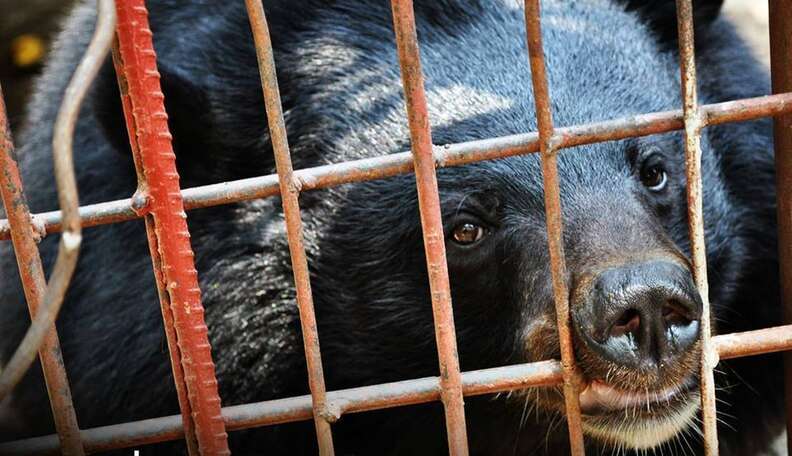 <p><a href="https://www.facebook.com/WildlifeFriendsFoundation/photos/ms.c.eJxdjckNACAQAjsyC3tp~;42pLyMJrwkwMCSLMYOMruyBR~_rkIz4hBKnEuHRVrp3T0pWJHaZ2tBJ6qyvX~;dk1vys4.bps.a.10152624839742657.1073741914.28211827656/10152624842372657/?type=1&theater"> Facebook/Wildlife Friends Foundation Thailand</a> </p>
Shocking photos of a bear unrecognizable after years of abuse broke hearts around the world when they surfaced earlier this month, just after her tragic death. Now the images have led to the rescue of the other bears who were kept with her.
WARNING: Graphic image below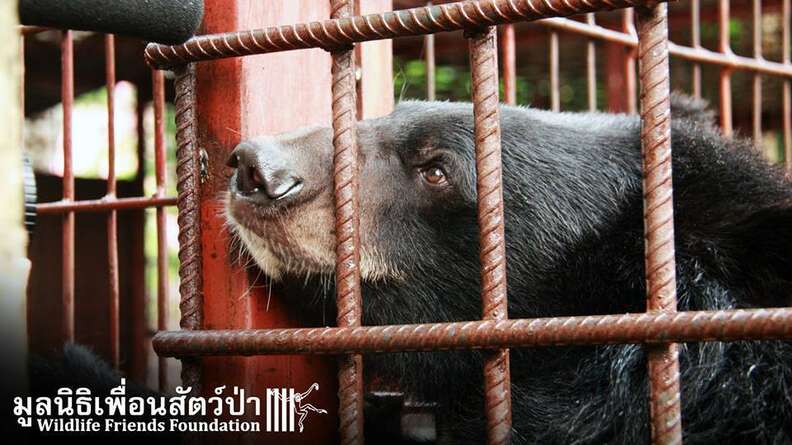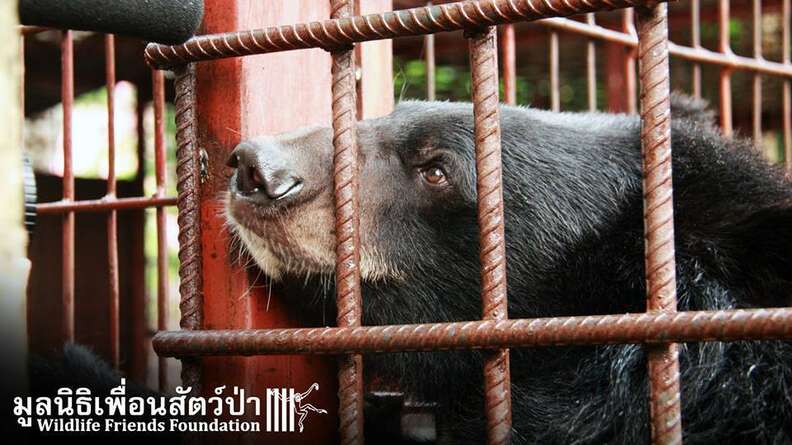 Kwan the sun bear was rescued March 14 from a Buddhist temple in Thailand. Locked in a back room for most of her short life, she never saw the sun and hardly looked like a bear when she was found. Wrenching photos show an emaciated, hairless bear, with long claws and wounds across her face.
Kwan died just hours after rescuers found her, despite intensive medical care. But the photos received international attention, and shortly after they were released by her rescuers, Wildlife Friends Foundation ThailanD (WFFT), the Thai government announced that it would seize the rest of the bears at the temple.
On Friday, WFFT staff teamed up with a rescue team from Thailand's Department of National Parks to remove the remaining four bears from their concrete cells. Though they saw the sun and look to be in better shape that Kwan was, they were kept in undersized, dirty cages with rotten food. At least one bear was missing a paw.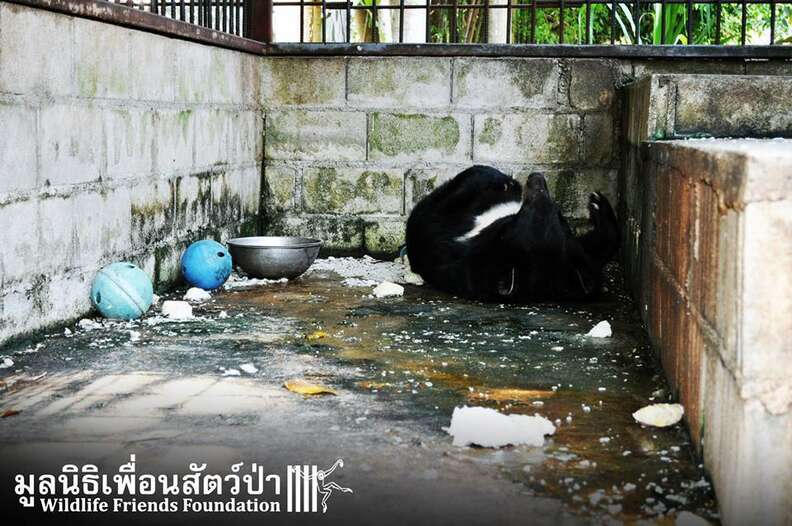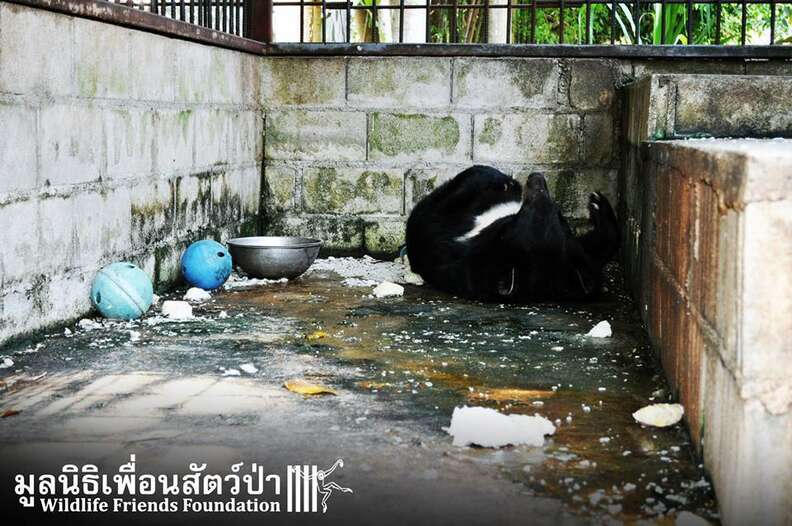 The organization - which provides veterinary care to subpar facilities like this one, in situations where it can't legally remove the animals - has been complaining to the government about conditions at the temple for years. Though no one knew about Kwan's backroom existence until she was rescued the other week, there were originally five other bears known to be kept in terrible conditions.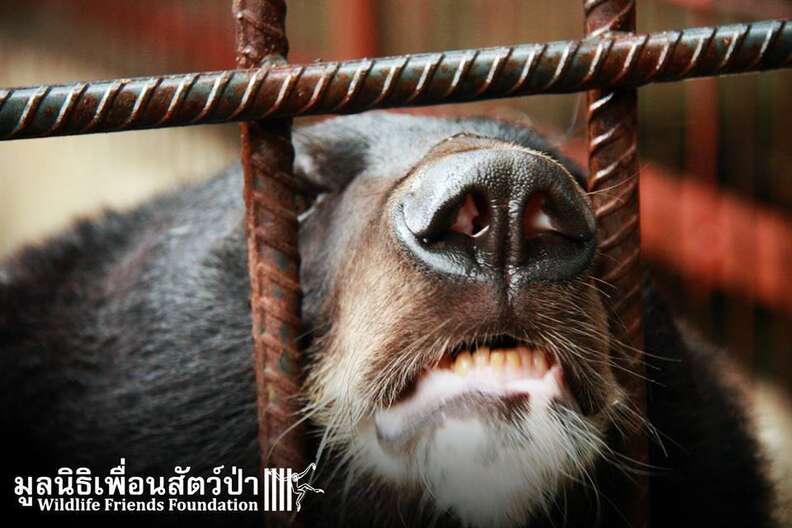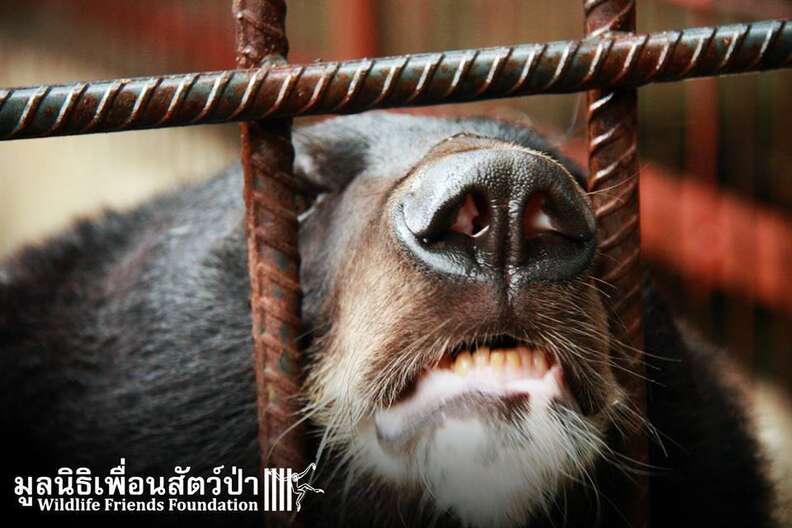 WFFT conducted an investigation in 2012 and turned the results over to the Thai government, but officials didn't act on it until 2014 - when they removed the temple's smaller animals but left the bears and deer to suffer. The group sent several letters to the government after the initial investigation. Finally, in March, WFFT returned to the temple after a tip revealed that one of the mistreated bears had passed away from an illness. It was then that they found Kwan, whose photos prompted authorities to step in at last.
While the group is happy that the remaining bears will finally get help, "unfortunately the wildlife law was not enforced over the past years and the situation became critical over the last month," they said in a Facebook statement. "We are of course saddened by the lack of response by authorities, resulting in the death of two innocent bears."
These bears are just six more victims of the exotic pet trade, which is thriving in Thailand. Many people buy young bears and other animals as pets, but soon realize they're unprepared to care for them and dump them at Buddhist temples, where they think they'll be safe. Many of these temples are well-meaning but equally unprepared to care for exotic wildlife; the worst ones capitalize on it, encouraging people to give them animals so they can create cruel menageries, attracting visitors and money alike.
The government is often reluctant to intervene when animals are being abused by monks.
"Religious leaders are just like politicians and wealthy people often above the law, so legal charges for illegal wildlife possession or animal cruelty are usually not pressed by police or other authorities," WFFT wrote.
These four rescued bears will hopefully escape that fate. They have been taken to a government facility for bears under the management of the Thailand Department of National Parks. WFFT said they were unable to take the bears in because they are currently at capacity and because the sun bears were officially government seizures.

The group plans to work with the government to ensure the bears' housing is appropriate and provide funding for their food and care.

The oldest bears of the group had spent eight years inside the temple's barren cells.