Suffering and Alone, Staffordshire Terrier Puppy Granted Second Chance by Local Rescue Group and Animal League America
Lost. Abandoned. Discarded. Regardless of how a beautiful black and white Staffordshire Terrier puppy wound up homeless, she was in desperate need of urgent medical attention when she was rescued. Luckily for her, two local rescue groups were able to join forces and provide her with the second chance at life she so desperately deserved.
Stella, as she was later named, was originally rescued by Brooklyn New Hope, a placement department inside New York City's Animal Care & Control, when she was brought in as a stray. Not only was she homeless and alone, she was suffering from a severe case of Demodex mange, a painful skin condition caused by tiny mites that live inside the hair follicles. From there, she was transported to North Shore Animal League America's Port Washington, N.Y. campus where she'd be treated for her condition and receive superb medical attention from our top-notch veterinarians and medical staff. The teamwork of Brooklyn New Hope and Animal League America to rescue this helpless pup and provide her with everything she would need to start her life as a happy, healthy Mutt-i-gree.
Demodex mange can be common in young dogs and fairly easy to treat, but Stella's case was particularly severe because it was left untreated for so long. The lack of immediate medical attention caused her to lose almost all of her coat and left her suffering from painful lesions and inflammation all over her tiny body by the time she arrived at Animal League America. Her silky black and white coat completely stripped of its puppy luster and replaced with painful sores, leaving her body burning up, so much so that it was actually hot to the touch. Stella was in desperate need of urgent care, and the world's largest no-kill animal rescue and adoption organization was there to rehabilitate her and ensure that she'd never have endure such pain and neglect again.

"She was so scared and timid when she came in and her skin just left her in absolute discomfort. To alleviate her from that was a total team effort from our veterinary staff, technicians, groomers, volunteers and kennel staff. They should all take pride in a job well done," said Animal League American Veterinarian, Dr. Laheney.

Within two months, Stella's wounds were almost completely healed and her coat was growing in nicely under the watchful eyes of the Animal League America medical team. In fact, Stella was doing so well she made it a point to it forward. Due to her playful and outgoing personality that began to flourish as her condition improved, Stella helped our Pet Behavior Team socialize another pup, named Amelia, who was very fearful. The two quickly formed a strong bond, sharing a room together with plenty of toys and comfy spots to curl up and relax. The camaraderie between the two pups helped both of them develop the confidence and socialization skills necessary to become highly adoptable Animal League America Mutt-i-grees.
"What I found most heartwarming and satisfying was to see Stella become more playful and energetic, well socialized. To look back on the condition she was in when she arrived compared to how she looks and acts now, it's very gratifying to all of us," Dr. Laheney said.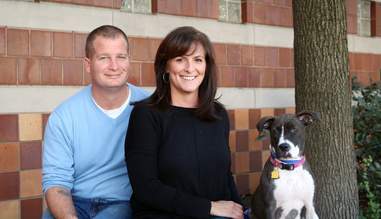 Just three months after arriving on our campus, Stella's condition was fully healed and she was well on her way to a responsible, loving home. The once fragile, sick puppy was transformed into a healthy, well-adjusted puppy found her perfect match in the form of Catherine Bull and her boyfriend Chris Webster. The couple took their first trip to Animal League America and met several dogs and puppies, but didn't quite fall in love with any of our four-legged friends until they were walking out of the building. It was at that moment they noticed Stella as she was coming back from one of her daily walks, and decided they needed to know more about the gorgeous pup.

"My boyfriend actually noticed her first as we were leaving and said we had to meet her. We went and sat down with her on bench and she jumped right into my lap, curled up, put her head down and fell asleep," Catherine said. "She has such amazing, soulful eyes, and was one of the sweetest dogs I've ever met. We immediately fell in love and adopted right on the spot."
Not only was Stella graced with brand new pet parents that day, she was also blessed with two canine siblings as well – 10-year-old English Bulldog, Zoey, and 2-month-old English Bulldog, Lucy. Catherine said the three dogs have become the best of friends.

"Zoey, our older dog, hasn't played and run around with another dog in forever, but she goes in the backyard with Stella all the time and they play. It's so nice to see," she said. "She and Lucy have brought life back into our house. It's been an absolute dream."