Study: Just 4% Of Kenyan Poachers Get Jail Time
A new study by conservation group WildlifeDirect has revealed some disturbing figures on Kenyan wildlife management and policies for deterring poachers.
The study found that between January 2008 and June 2013, a total of 743 wildlife-related cases were filed in criminal registries across the country. Of these, only 4 percent of the offenders convicted of wildlife crimes, which involved killing wild animals and selling their parts, went to jail.
And for elephants and rhinos in particular, the report was grim. In cases regarding elephants and rhinos -- which can result in sentences of up to 10 years -- only 7 percent of offenders were jailed. Even worse, elephants and rhinos were the most often involved in poaching cases: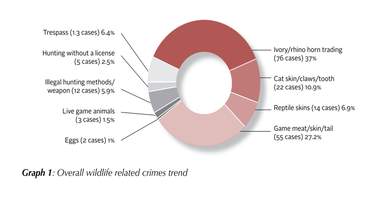 WildlifeDirect The researchers also broke down the number of poaching cases into categories: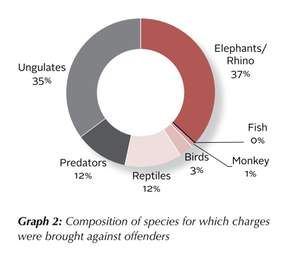 WildlifeDirect Lead author and executive director of Wildlife Direct Paula Kahumbu said that the lax policies motivate poachers to be more aggressive. "We make it easy for poachers and dealers to operate in our country and this leniency in our courts has led to a culture of impunity within the criminal fraternity," she told Standard Digital. "Kenya has become a safe haven for international criminal cartels that control poaching and trafficking in our country and we hope that this study triggers an immediate government response to address the problem."
ACTION GUIDE: Wildlife Trafficking
Every year, wildlife traders reap a collective $10 billion to $20 billion in profits from poaching and trading products like rhino horn, ivory, alligator skin, tiger paws, eggs, bushmeat, live animals used as pets, and much more -- not to mention illegal live animal sales. HSI has developed this guide to help avoid buying products made from this illicit trade. Born Free USA has this helpful state-by-state guide on which animals are illegal to own (many because they are illegally obtained). For more information, or to become more involved in this issue: WWF's anti-trafficking campaigns, Save The Rhino, and Traffic.