Pregnant Dog Trapped Under Shed Can't Stop Thanking The Man Who Saved Her
She's due to have her puppies any day now.
It's been just over a month since this pregnant former stray pup, named Pumpkin, was rescued from a life on the streets — but she recently needed yet another helping hand to get out of a different sort of troublesome situation.
On Wednesday, Pumpkin was playing in the backyard of her temporary new home at the Hawkins County Humane Society in Tennessee when she got herself into a bit of a bind. Unbeknownst to her caretakers, the dog had managed to crawl into the narrow space beneath a storage shed — to the point that Pumpkin got stuck.
"I open the back door and call for her and her head pops out from underneath!" Kennedy Margetjak, a shelter staffer, told The Dodo. "I know something is wrong because she wouldn't even come for treats! I walk out and her pregnant self is wedged underneath the shed and is struggling to get out but just can't."
Poor Pumpkin was in quite the pickle — and she knew it.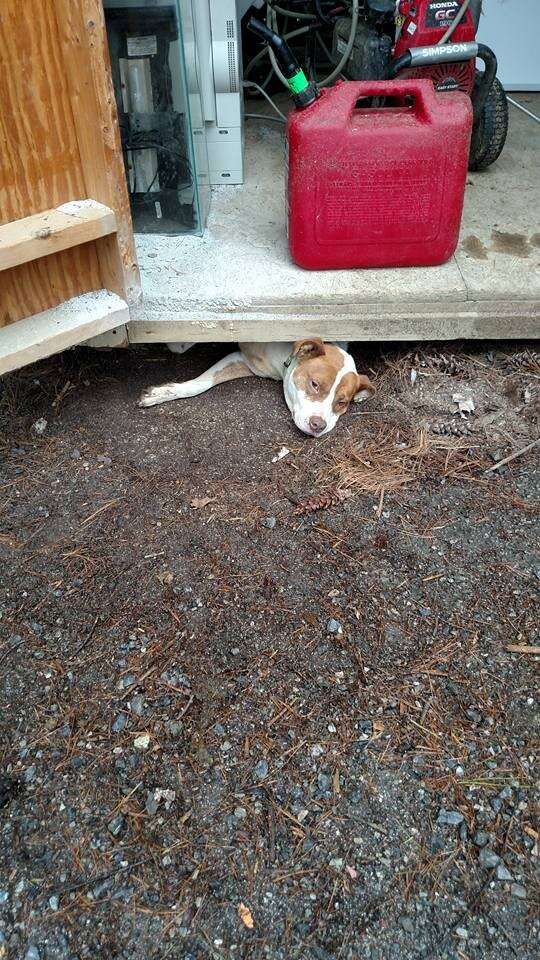 At first, Margetjak and others tried to help Pumpkin by giving her a gentle tug, but they weren't able to free her on account of her pregnancy bump.
That's when they called the shelter's handyman, Joey Arnold, for help.
Using a jack, Arnold succeeded in hoisting up the entire shed, allowing Pumpkin to slip out on her own. Fortunately, she was uninjured after the awkward ordeal — but clearly not ungrateful.
Here's footage showing the moment the dog was freed, and the barrage of happy kisses she showered upon the man who rescued her.
The "thank you"s didn't end there. Pumpkin kept up with the kisses for several minutes.
"She was very happy!" Margetjak says.
We're happy to report that the shelter has since blocked the bottom of the shed to prevent a similar mishap from happening again — though Pumpkin is in need of a bit more help.
Hawkins County Humane Society is hoping to find a forever home or foster family for Pumpkin, so she can deliver her puppies in a cozier setting. For information on how to help her, or the other adoptable pets under its care, visit the shelter's Facebook page.