This bird, who now loves dancing to country music, used to be so stressed, he would scream at anyone who came near him.
Merle had been living in Mississippi with 29 dogs in a hoarding situation. "The cage that he came in looked like the dogs had peed all over it," Jamie Pope, Merle's current caretaker, told The Dodo.
"It was disgusting. The cage was rusted out in spots - it was horrible," she said.
But just last month, a combined effort of police officials, animal control and the Humane Society of South Mississippi (HSSM) raided Merle's former home and took all the animals who lived there out of the dwelling. Pope, who works with Wild at Heart Rescue, brought Merle home with her to help him recover.
The bird needed all the help he could get - he was visibly traumatized from the way he had been forced to live. Upon picking up Merle from HSSM, Pope was warned that Merle would scream whenever someone dared come too close to him. Oddly enough, the only thing capable of consoling him was country music.
Merle had a band around his foot, off of which Pope retrieved a serial number, so she did a bit of investigating to see if she could learn more about Merle's origins - and the truth was saddening.
"Merle was actually wild-caught [from overseas], then brought in through the port of a station in Los Angeles," Pope said. "He was brought in sometime during the '80s or '90s."
Upon first arriving at Pope's home, Merle was kept under quarantine and away from her other birds, to ensure he had no illnesses that could be passed on to them.
Even today, Pope said Merle is still afraid to interact with other birds or leave his cage, even when the opportunity is presented to him. Still, he's slowly learning to adjust to his new life, free of neglect.
"He's starting to get feathers back and we've been introducing a bunch of different foods to him. He's eating well," Pope said.
Pope also said that with Merle's powerful beak, he tends to go through toys pretty fast ... by completely destroying them.
Country music is still his preferred musical genre. He's grown comfortable enough to take food directly from Pope's hand - fruits seem to be his favorite treats by far.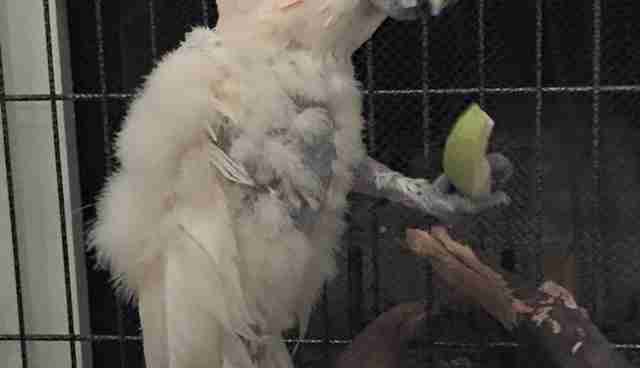 He also likes to sit outside in the sun ...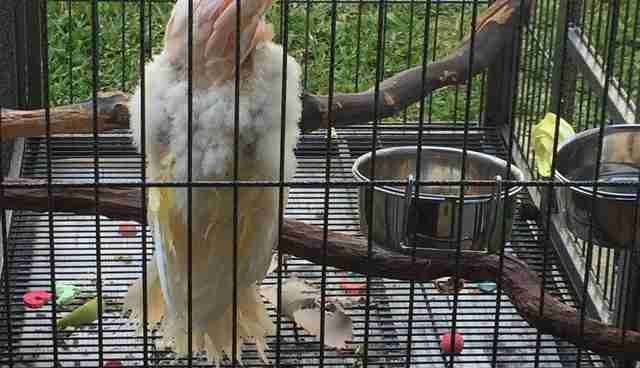 ... and bathe in water from Pope's backyard hose.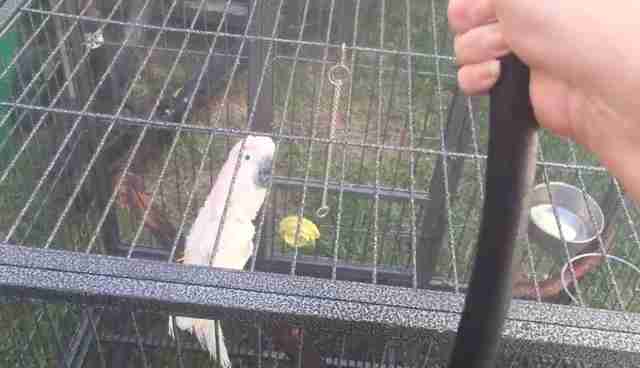 Most importantly, Merle doesn't scream anymore - although he'll give the occasional hiss when it's time to take his medicine. Pope said out of all her chatty birds, Merle is actually the most quiet.
"He doesn't make a whole lot of noise yet," she said. "But he will find his voice, let me tell you."
Want to help Wild at Heart Rescue continue doing good work for animals in need? Consider making a donation here.
Watch this video about Javi, another bird who plucked out all her feathers, so she got tiny sweaters instead: