Stray Dogs Land A Job That Keeps Them All Together
They even have their own little houses.
Meet the three newest (and cutest) employees at this gas station in Brazil.
Their names are Marmaduke, Mano and Trakinas — and they're about to brighten your day.
Adote um vira-lata RS
For as long as anyone can remember, the furry trio had been living as strays in the city of São Leopoldo. It's unclear how their sad lives on the streets began, or if they knew each other before winding up there, but one thing is certain — they grew to be inseparable.
Gabriel Corrêa first learned of the pups last month after purchasing a gas station in town, where they would occasionally turn up. To the previous owner of the gas station, they were clearly considered a nuisance.
"When we took over in February, we were told that there were some dogs who went there from time to time looking for the night guard who gave them food," Corrêa told The Dodo. "We were told we shouldn't feed them or give them attention, because if we gave them food or attention they would stay there forever."
Corrêa heeded that warning — and did quite the opposite.
Adote um vira-lata RS
Rather than shoo the three friendly dogs away, he and the new gas station staffers doted on them — giving them food and affection whenever they came by. Not surprisingly, they returned more and more often, until it got to the point the dogs rarely left.
"I love dogs," Corrêa said. "They grew on us, and we grew on them."
So impressed with the three dogs and their faithfulness to one another, Corrêa decided to take things one step further; he brought them all on as full-time employees. He also made little name tags so customers would know their positions were official.
 
Marmaduke
Kacia Apollo
Trakinas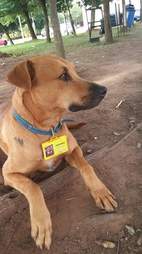 Kacia Apollo
Mano
Kacia Apollo
The pups' new employer even fixed up some old doghouses so the three of them could enjoy their downtime together in comfort.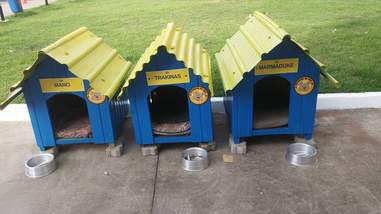 Kacia Apollo
While the dogs' positions as employees is said to be "security," it would appear they are the ones benefiting most by being kept safe. But they are serving another important role — making people smile.
"As a resident of São Leopoldo, I congratulate the new owners and their employees!" one patron wrote in a post online. "I was already a customer, but now I am even more so. My advice to others: Fill your gas tanks here!"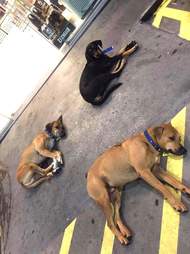 Adote um vira-lata RS