Stray Dog Lands Job As The World's Cutest Cop
He's even got the perfect mustache.
Bad guys, beware — there's a new cop in town.
And he's adorable.
This sweet little schnauzer, named Azul, has built a reputation as both the furriest and cuddliest police officer in the Suba district of Bogotá, Colombia.
It is there that, each day, he can be found patrolling the streets — keeping things safe from one worrisome threat in particular: a potential lack of cuteness.
To see Azul today, cooly strutting along in his tiny uniform, you might never guess that there was once a time that it was he who needed saving.
Four years ago, a military reservist named Nicolas Alejandro Walteros found the pup living on the street, where he'd been injured in a fight with another dog. That's when he decided to help by welcoming Azul into his life.
"I told him I would give him everything he needed," Walteros recalled to The Dodo. "And he adopted me as his dad."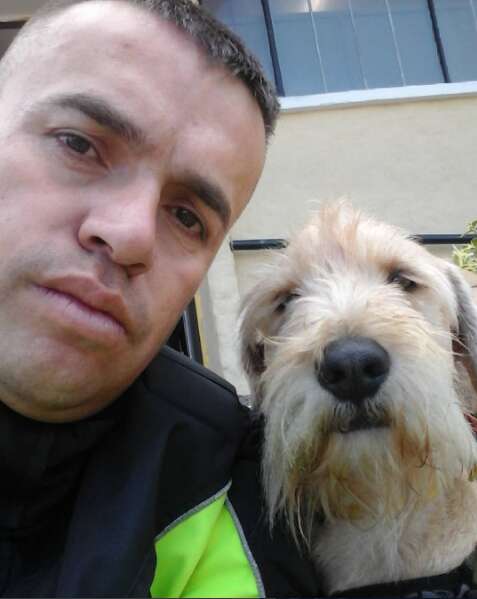 It wasn't long after Azul was rescued that he proved himself to be a particularly skilled companion. Walteros, who often travels by motorcycle, even taught the dog to ride comfortably with him.
Having many friends in the police department, Walteros decided to outfit Azul with a little patrol cop uniform to wear when they were out and about, in honor of them. And in so doing, the dog quickly became a friendly ambassador for local law enforcement.
"It was something they did not expect," Walteros says. "They were astonished by his dedication to the institution."
Naturally, the police welcomed him into the team as their mascot.
Fortunately, Azul was already equipped with the perfect cop mustache to complete the look of his new role.
While Azul might not be an official member of the police force, like the brawnier German shepherd officers working the beat ...
... that doesn't mean he isn't making a big difference in the community in his own way.
Azul's position as lil' canine cop has made him a celebrity of sorts around town which, Walteros says, he hopes will strengthen police-community relations, as well as inspire a newfound respect for animals who are less fortunate.
These days, Azul can be seen traveling the streets of Suba with Walteros, or one of his police force colleagues, to visit with civilians and other officers alike — spreading goodwill and bringing smiles to the faces of everyone they meet.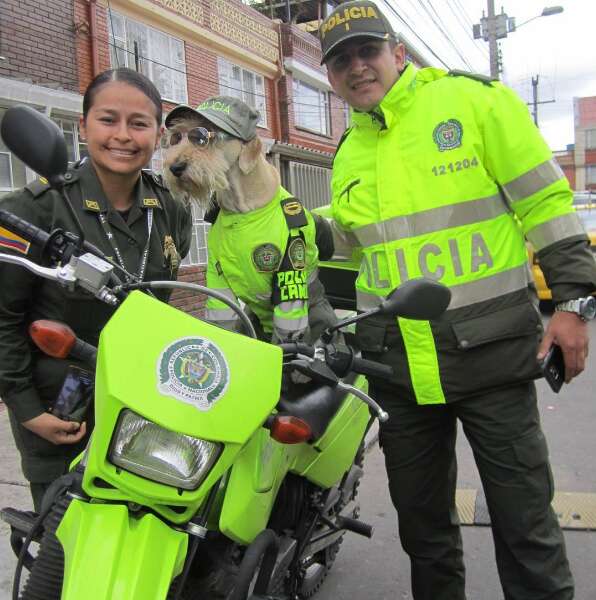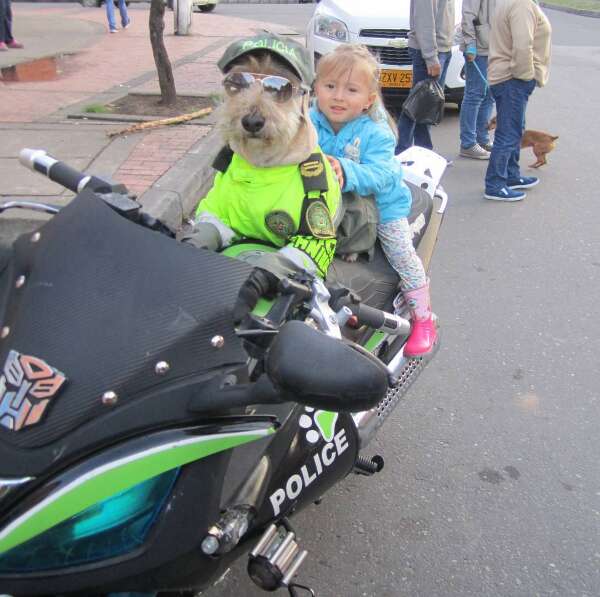 Now THAT'S some good police work.