Stray Cat Wanders Into Couple's Living Room — And Gives Birth To Kittens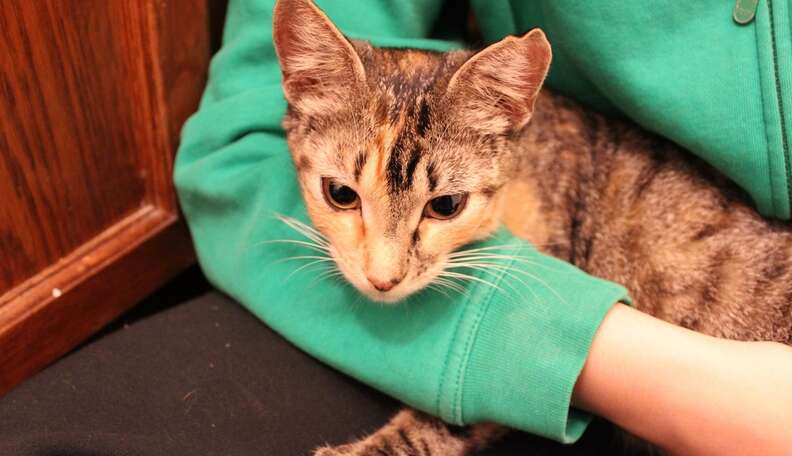 <p>Angela Watts</p>
<p>Angela Watts</p>
"When I heard her cry behind the door, I opened it, she walked in and hasn't left since," Harold told The Dodo.
The year-old cat immediately made herself at home in the living room. The couple had been thinking about getting a cat anyway, and decided it was meant to be. She had chosen them, and that was that.
"We decided to keep her after we gave her a bath and she fell asleep in my hands," Harold said. "It just seemed obvious that she needed help and that we could provide that help."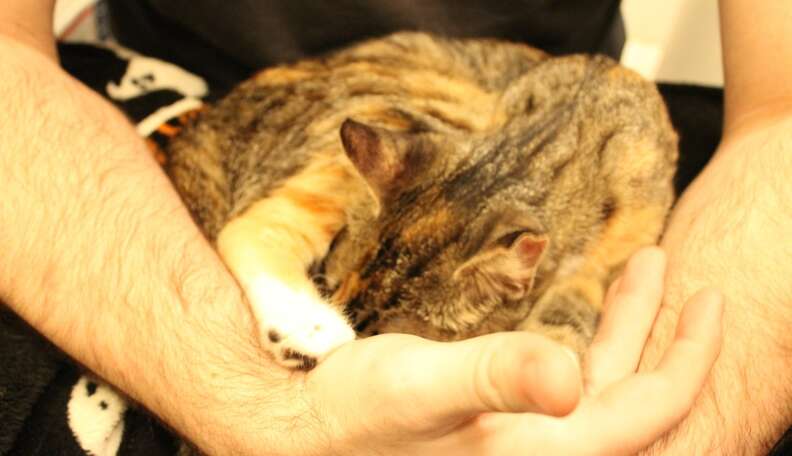 They named the cat Jupiter because the patterns in her fur reminded the couple of the patterns in the planet's clouds. "She is aptly named, for she has become our Gassy Planet," Watts told The Dodo. "She has farted in my face on multiple occasions."
Jupiter had been searching for the perfect home - because as they later discovered, she was pregnant, and needed a place to raise her kittens.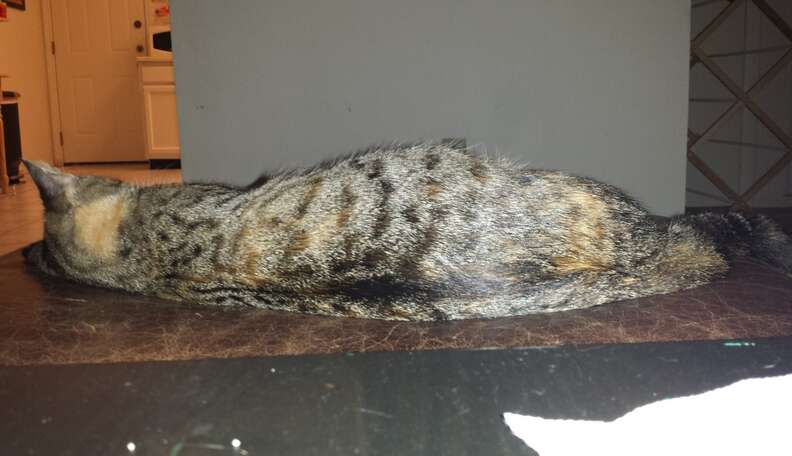 The couple had noticed Jupiter's swollen belly, and were afraid she had some sort of an infection or parasite. "I was sure she had worms. When we took her to the vet the next day the nurse suspected that she was instead pregnant, and we became excited at the possibility," Watts said. "When the vet and nurse came back with the ultrasound, we could see the spine of one of the kittens!"
Only weeks after choosing her forever home, Jupiter gave birth to two healthy kittens, one boy and one girl - and the couple decided to keep them, too.
"It took some time (but very little effort) to convince James that we needed to keep both kittens and we decided on the names Callisto (gray) and Io (black), after two of Jupiter's Galilean moons," Watts said.
Now, the little family has happily settled into their new home, and it's clear that Jupiter made the right choice when she wandered onto the couple's porch that night. Her kittens have the perfect place to grow up, and all three absolutely love their new parents.
"The kittens will actively seek us out to sleep on or around us," Harold said. "I woke up the other day with Io on my stomach, it was adorable."
Jupiter is living proof of how great things can be when you take matters into your own hands.
"Both James and I feel that we did not save Jupiter, but that she saved us," Watts said.
If you'd like to adopt a cat of your own, you can check out Adopt-a-Pet.com to get started.