An observant stranger saved the life of a little baby owl this week in a Seattle park when he noticed something just wasn't right. "Saw this little guy off the trail at Ravenna Park this afternoon while on a walk," Reddit user HMTiger86 explained.
"At first I thought it was a cool 'birding opportunity,' and then remembered owls are nocturnal and usually only come out at night."
Realizing the tiny owl was injured, the good Samaritan called PAWS, a local rescue, which advised him to get the hurt little bird into a box and bring him in for medical care. While he was understandably nervous about getting so close to a wild animal, HMTiger quickly realized the little guy was grateful to be helped.
"After getting him into the box, he was understandably a bit tense but seemed relieved to be off that stick. Poor little guy didn't put up much of a fight when I got near him (although he didn't like the towel I used to get him in the box and snapped at it with his baby beak). Once closer to him I could see he had a couple flies on his little head and his eyes seemed dry, it reminded me of the 'baggy eyes' we get when we don't get enough sleep. Next stop, PAWS Animal Shelter!"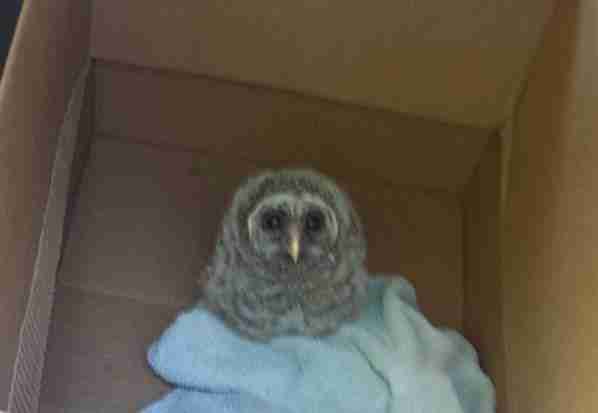 The baby owl and his new human buddy made it safely to PAWS, where the fluffy little bird will get all the care he needs.
HMTiger86 posted an update on Reddit Tuesday evening saying, "I just called the shelter and he's doing great! He had some left wing droop last night, dehydrated, which was gone today, he was fed last night by staff and they left him a plate, which he ate on his own which is a great sign. Little guy probably fell a few days ago and has been roughing it since. Wish I was that tough!"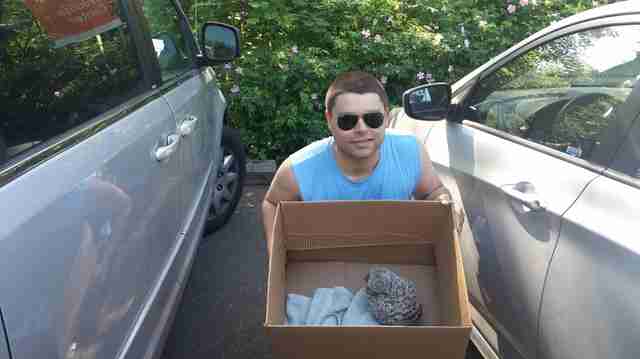 When other online commenters praised HMTiger86's actions he waved it off: "I honestly don't know how someone would not be willing to help if they noticed/understood that he was injured."