'Strange Looking' Puppy Finds Perfect Family To Love Her
<p>Jackie MacMillan/HSSV<span></span></p>
<p>Jackie MacMillan/HSSV<span></span></p>
When Lisa first arrived at the Humane Society of Silicon Valley (HSSV) in Milpitas, California, she was, as shelter staff put it, "unusual-looking."
The tiny, 10-week-old puppy already had scars all over her face and a case of "cherry-eye," or inflamed eyelids, that required surgery to correct it. "She could be hard to look at," HSSV's Finnegan Dowling told The Dodo.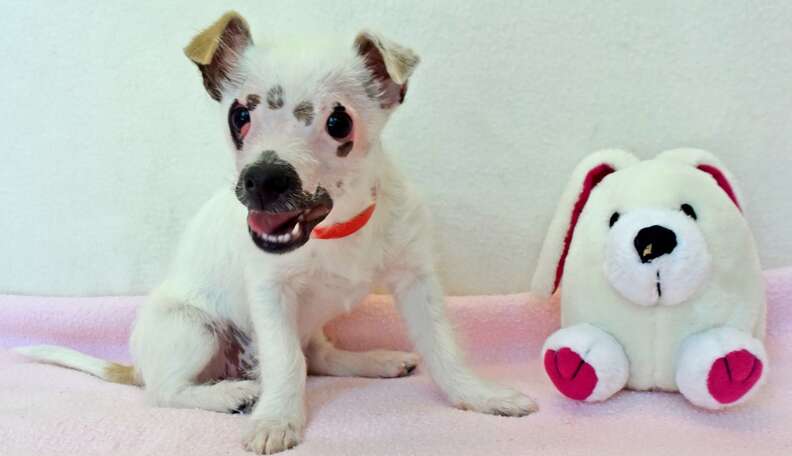 Despite whatever painful challenges Lisa had faced before arriving at HSSV from a local city shelter, she was "was a pretty typical wiggly, squirmy, happy puppy," Dowling said. "She loves other dogs and toys, is ridiculously kissy and she'll lick your nose clean off ... She wasn't hesitant or frightened or timid at all."
Shelter staff just needed to make sure they could find a family who would look past Lisa's scars and love her for the happy puppy she wanted to be.
That's when Christine Doblar and her family walked in the door. They had recently lost their Chihuahua, Luna, and the family was yearning for another dog.
Their bigger dog, a 6-year-old chocolate lab named Pelé, was "kind of depressed," Doblar told The Dodo.
Over the weekend they decided to go into HSSV to meet some of the dogs ... and they saw Lisa.
"She's pretty funky looking," Doblar admitted, but there was something about the little puppy's attitude that drew them.
"She just has a wonderful, sparkling personality," Doblar said. "The fact that she was going to each of us, and just as loving and exuberant with everyone she greeted ... we looked at a few more dogs but nobody could compare to that."
Doblar and her family left the shelter that afternoon without making a final decision, but as they drove away "my girls were freaking out the whole time that somebody else was going to take her," Doblar said.
They went back that same day and adopted Lisa, deciding to rename her Lucky, "cause we're both lucky," Doblar said.
Lucky has been settling in wonderfully in her new home, making friends with her doggie brother and getting lots and lots of attention.
Lucky couldn't have found a more perfect family ... and Finnegan Dowling explained there's a lot to learn from the quirky-looking dog.
"It doesn't occur to her that she is different from other puppies. She doesn't compare herself to others. Whatever caused her injuries, she holds no malice towards anyone for it."
If you're ready to adopt a shelter pet like Lucky, see waiting rescues at Adopt-a-Pet.com, and check out Humane Society of Silicon Valley on Facebook to support their lifesaving work.