Story Behind The Shot: Pleasant Surprise From A Surfing Elephant Seal
[Editor's Note: This story is part of our Story Behind The Shot series. Got a great shot? Got a great story? Join The Dodo and tell us about it.]
We recently stayed at the De Hoop Nature Reserve for the first time earlier this year, and were absolutely blown away by the sheer diversity of life that called this place home.
A few of the highlights we encountered each day included a pair of endangered African Oyster Catchers who were nesting near the main beach, large numbers of Southern Right Whales (with their newborn calves) breaching and frolicking a few hundred meters off shore and the beautiful simplicity of the dunes all around us.
Although this World Heritage sight may be famous for it's birdlife and whale sightings but who would have thought that a very unusual visitor, a Southern Elephant Seal, would have popped its head out of the surf directly below the rock face that we were perched on!
Dipping in and out of the waves for a few minutes, it slowly made its way along the shoreline and eventually disappeared.
The size of this animal was staggering!
It looked to have weighed well over half a ton.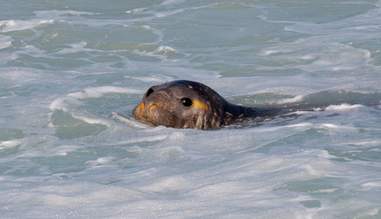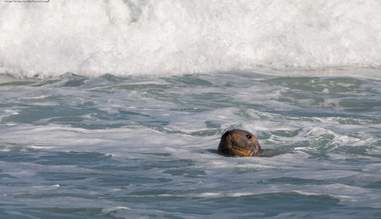 It wasn't just our lucky day as there was a reporter from the Cape Argus newspaper, who was also sitting nearby at the time with his camera gear.
So we were pleasantly surprised to find this article in the paper a few days later.