This Guy Just Can't Stop Adopting Senior Dogs And Farm Animals
GOALS.
Steve Greig is far from your ordinary pet owner, let alone accountant.
Currently, his home in Colorado, houses 10 dogs (mostly seniors), a pig named Bikini who thinks she's a dog, two chickens, two ducks, two pigeons, a couple of cats (who live in the garage and are on mouse duty), a rabbit and a pond full of koi.
But Greig isn't a madman, nor is he a hoarder.
He's just a guy with a lot of love (and room) for pets from all walks of life. His speciality happens to be giving senior dogs a forever home they may otherwise lose out on due to their age.
"I grew up with a lot of pets," Greig told The Dodo. "Both my parents were animal lovers and they pretty much always let me have whatever I wanted as long as I could take care of it."
Greig's love of animals followed him to adulthood. When he got his own place, he always had three or four dogs around. But the death of one in particular was the catalyst to growing the multi-species family he has today.
"I was just so distraught about [that death]," Greig said. "A month or two went by and I still felt so horrible about it. I decided that the only way I would feel better was if something something good happened that probably wouldn't have happened if he had not died."
That was when in Greig made it his mission to head down to his local shelter and adopt the "least adoptable" dog. Greig had the idea in mind that even if his own beloved pet had passed away, he still had the chance to give another dog a good life.
"So [I adopted] a 12-year-old Chihuahua [named Eeyore] with a heart murmur and four bad knees and I brought him home and that was just the beginning of all the animals," Greig said.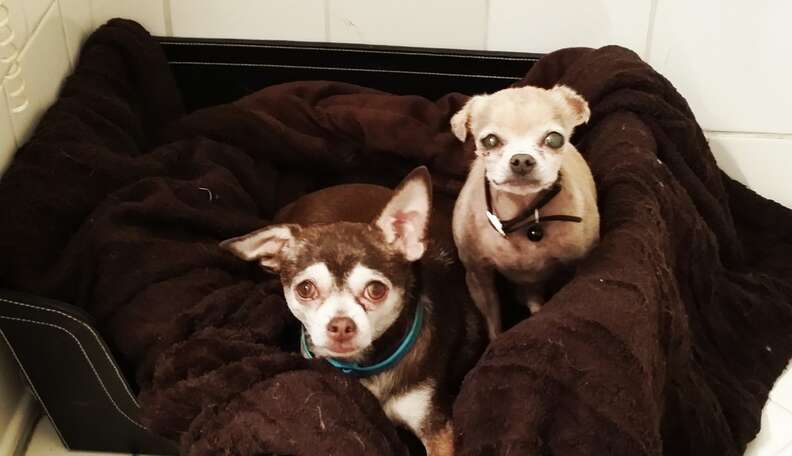 Only eight out of the 10 dogs currently residing with Greig actually belong to him - one dog is a roommate's and the other belongs to Greig's sister. Still the rest of the pack are all his and they're kind of a big deal on Instagram.
So what does a day in the life of this many pets entail?
"A normal day for me is getting up at 5 a.m. in the morning and making breakfast for all of them, which, you know, there's 10 [dogs] and most of of them have different diets," he said.
So essentially, Greig finds himself making 10-plus breakfasts for his animals, in addition to administering medication to his seniors with health problems. After tending to his pack, Greig goes to work, but returns home during lunchtime to let the animals out, as well as give them their treats.
Greig's weekends are filled with grooming appointments or trips to the vet, all depending on which pet needs what.
Daily walks are quite the spectacle, given that Greig manages to take out all of the dogs at once ...
... although with Bikini, it's a different story. She either gets to ride majestically in her wagon ...
... or is picked up by hand (which she definitely doesn't like as much).
Out of all the animals, Bikini and her big bestie, Enoch the Irish Wolfhound, are pretty hard to miss.
But then there are Greig's other pets - like Oprah, the chicken whose hobbies include riding the roomba around the house.
Greig got Oprah at the same farm animal swap where he picked up Bikini. The pig's previous owner was no longer able to keep her because of "landlord reasons," Greig said. He was told Bikini was already house-trained, with experience being around dogs. "I just thought, 'I'm not going to have much of a better chance getting a pet pig,'" he said.
Then there's Stuart, the rabbit.
"That rabbit, someone just left him in my front yard is how I came to get him," Greig said. "I assume someone knew I had lots of animals and thought 'Yeah, he'll give him a good home.' So, I found him in my front yard one morning and I put him in the chicken coop because I wasn't sure what to do with him."
It must have been a meeting of fate, given that, according to Greig, Stuart is the most chill rabbit around - he gets along with everyone and shows zero fear.
It helps that since most of the dogs are seniors, they'd much rather nap ...
... than chase a rabbit (or any of the birds, for that matter).
Greig loves all of his animals, but there's something special about seniors in particular that he's drawn to.
"They're just wiser animals," he said. "You kind of know what you want out of life once you become a certain age. These dogs know who they are and it's easy to develop a relationship with a person or pet who knows who they are."
He said that often people who visit say they can hardly tell there are 10 dogs in the house - simply because all of the dogs are quiet and low-energy. Greig said that if the dogs alone were all hyperactive puppies, he wouldn't be able to handle the responsibility of caring for them.
In addition to fun, Greig finds taking care of his pets to be incredibly rewarding.
"Like right now, I'm outside on my patio and it's a beautiful day," he told me during our phone conversation. "Bikini's laying in the yard and the dogs are all laying around the yard. They just makes it feel like home. It's just fulfilling knowing that these guys are happy and loved and well-taken care of. It makes my days worthwhile."
While Greig is at his maximum limit of pets, he said that as the older ones pass on, he plans on continuing the tradition of adopting more animals to take their place.