Dr. Matt of Vet Ranch Rescue is used to taking in tough cases - but when Itchy and Scratchy showed up at his organization desperately in need of medical care, there was something a little, well, funky about them.
YouTube/VetRanch

"We have two little nasty puppies," Dr. Matt said in a video of the pups uploaded to YouTube. "They're super cute though, but they totally stink. They have totally funked up this whole room, it smells terrible in here."
YouTube/VetRanch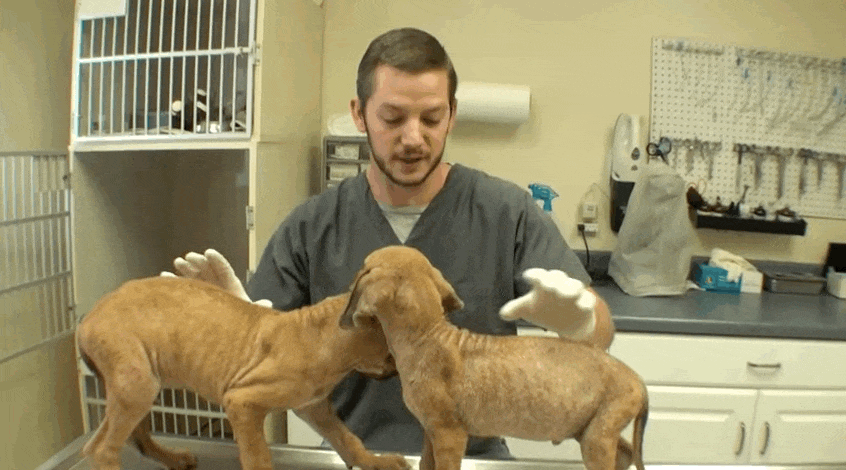 YouTube/VetRanch
It turned out the puppies were so smelly because their skin was infected with a highly contagious form of mange. They had been picked up off the streets by good Samaritans, and had already had a bath before being taken to Vet Ranch, but that didn't help much with the smell.
Dr. Matt began their treatment for the mange, and decided to name the two pups Itchy and Scratchy.
YouTube/VetRanch
The puppies hadn't spent much time around people - and they probably hadn't had a lot of time to play and cuddle during their time on the streets - so they were subdued and scared. But Dr. Matt knew that soon they would be feeling better and safer, and then their puppy personalities would come out.
YouTube/VetRanch
But as the puppies got more and more comfortable with him, Dr. Matt began to realize that their early malnutrition would have lasting effects on their development. Their bones hadn't started developing properly when they were little, so even now that there were getting care and food, they still had joints that stuck out at odd angles.
YouTube/VetRanch
As soon as the puppies were healthy enough, Dr. Matt decided that it was time to send them on to their next caretakers, where they could see an orthopedist about their bones before going on to find their forever families.
If it weren't for the people who rescued them off the street, and for Dr. Matt's dedicated care, these puppies would never have gotten the second chance they deserved.
YouTube/VetRanch
YouTube/VetRanch
Watch the whole rescue video below: