Starving Dogs Rescued From Life Of Fighting Wild Hogs To The Death
HSUS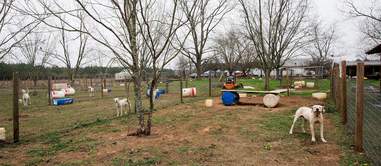 HSUS
Sixty-five dogs, from puppies to seniors, were living on a ramshackle property - they had no warm beds, no indoor place to sleep and barely enough food to survive.
Every single one of the dogs were severely underweight. "The pictures look horrible but they don't do it justice," Schindler said."They were just skeletal."
Instantly, Schindler's mission changed from shutting down a hog-dog fighting ring to saving the lives of these desperate dogs. One in particular stood out to him: a sweet old girl whom they would name Violet.
"Violet was the first dog to approach [us]," he said. "She came up and led us, shepherded us through the other dogs ... she kept looking back to make sure we were following her."
HSUS
Schindler and his team spent days rescuing the dogs - taking them first to a temporary HSUS shelter and then on to a network of other shelters and rescues.
Of those 65 dogs, some are still waiting for adoption but many are already in their forever homes. Violet has made a spectacular recovery and has won over her foster family - so much so that they just might keep her forever.
"She's very loved now," Schindler said, adding that seeing the transformation of the rescued dogs is "incredible."
HSUS
By saving these 65 dogs, Schindler and his team of rescuers may have shut down a pipeline into the cruel and hidden practice of hog-dog fighting. But, he says, there's much more work to be done.
"If someone had 65 dogs allegedly for this purpose, clearly there's a bigger issue below the surface," he said.