A young woman was out hiking one day in a rural area of Georgia when she spotted a horrible sight down by a nearby lake - a dog lying in the grass, nearly dead.
The girl immediately rushed the dog, later named Thumbelina, to a nearby animal hospital. The staff at Fayetteville Animal Hospital was shocked at Thumbelina's condition, and determined that she was only hours away from death. If the girl hadn't found her when she did, she wouldn't have made it.
Thumbelina is a German shepherd mix and should weigh around 75 pounds. When she was brought in, she weighed only 14 pounds.
Amazingly, Thumbelina survived her first night and continued to gain more and more strength as the hours went on. Even a simple, soft blanket was too heavy for Thumbelina's fragile body, and staff had to be extremely careful with her during those first few days.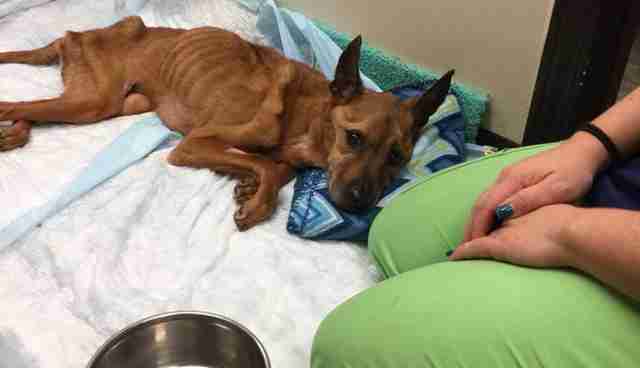 Thumbelina's case was taken on by Second Chance Rescue NYC, which deemed her the worst case of starvation they have ever seen. She started gaining weight almost immediately, and proved to everyone that she wasn't ready to give up just yet.
When Thumbelina was first rescued, she could barely move on her own at all, let alone stand or walk. She was much too weak to do most things, but still loved lying outside in the grass and snuggling up with all of her new toys. Her body was weak but her love of life was so strong, and she continued to stay a happy, loving dog throughout her recovery.
"She has a Twinkle in her eyes that speak of appreciation," Second Chance Rescue NYC wrote on their Facebook page. "She knows how much she is loved. We do love her so very much! We are thrilled. What a fighter she is."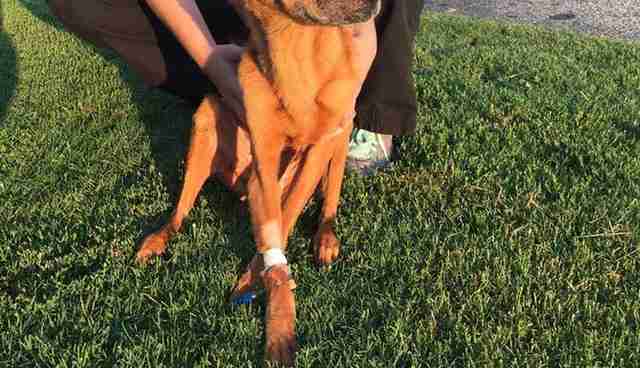 Finally, 10 days after Thumbelina was rescued, she took her very first steps.
Thumbelina still has a long way to go on her journey to recovery, but she's getting stronger and stronger every day. She went from being on the brink of death to being an incredibly wonderful dog who can't wait to gain her strength back and live a long, happy life.