Stabbed Mother Dog Stays Alive For Her Puppies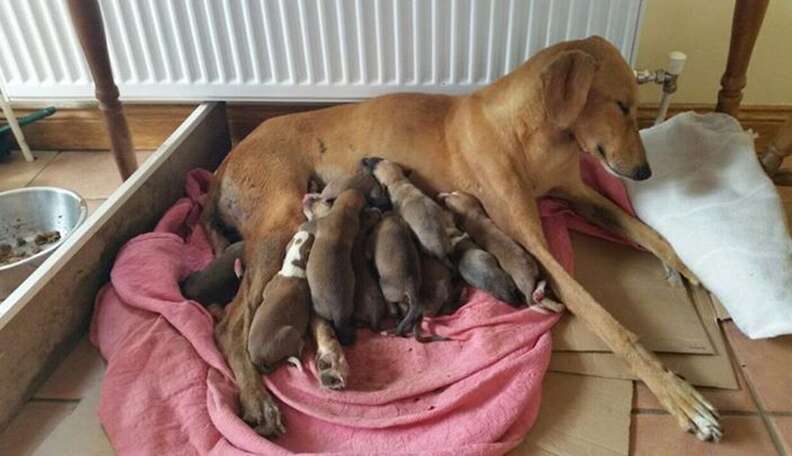 <p> <a href="https://www.facebook.com/dspca/photos/a.10151513403560678.1073741853.57525210677/10153088676315678/?type=1&permPage=1" target="_blank">Facebook/Dublin SPCA</a> </p>
<p> <a href="https://www.facebook.com/dspca/photos/a.10151513403560678.1073741853.57525210677/10153088676315678/?type=1&permPage=1" target="_blank">Facebook/Dublin SPCA</a> </p>
Nobody but Cinnamon truly knows what happened to her before July.
That's when the Dublin Society for Prevention of Cruelty to Animals (DSPCA) found the abandoned greyhound on the streets of Dublin, Ireland, where she was resting after sustaining deep cuts on her skin.
WARNING: Graphic photographs below.
Although they can't be certain, rescuers believe an unknown person stabbed Cinnamon before leaving her to die in the street.
The assailant's attempt to take away Cinnamon's life failed. And just a few days after being rescued by the DSPCA, Cinnamon brought new life into the world.
DSPCA posted these pictures in early August. Since then, the family has been living with foster parent Sean Fitzpatrick, who took it upon himself to name the dozen puppies.
The DSPCA honored Cinnamon and her pups on Sunday by having them help announce this year's Great Irish Dog Walk, which will take place later this month.
The names of the four girls and eight boys are Basil, Chilli, Ginger, Jasmine, Lavender, Nutmeg, Paprika, Pepper, Saffron, Sage, Salt and Wasabi.
Although Fitzpatrick has been caring for this baker's dozen, the dogs are still looking for their forever home. If you or a friend in Dublin are up to the challenge, visit DSPCA's website.
For updates on Cinnamon and more Dublin rescue dogs, follow DPSCA on Facebook.